Category: Sports
Created on Thursday, 26 September 2013 11:00
Last Updated on Thursday, 26 September 2013 11:00
Published Date
Written by VR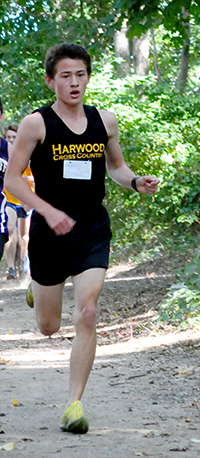 "If the hill has its own name, then it is probably a pretty tough hill," said Marty Stern, former Villanova cross-country coach.
Cardiac Hill, located 1.5 miles into the 5k course at Sunken Meadow State Park on the glacial scraped north shore of Long Island, is one tough hill. Harwood runners participating at the Jim Smith Memorial Cross Country Race hosted by Port Jefferson High School used their experience of running the hills of Vermont to pull away from the Long Islanders.
"Having the Harwood cross-country team run at Sunken Meadow has been on my bucket list for a while," said coach John Kerrigan, a 1970 graduate of nearby Hauppauge High School.
"We had an opening in our schedule and I wanted to reward all of the great seniors, most that have been with me for four years, with a trip to my hometown," he said.
"To be honest, I thought we would be a little over our heads. There were over 1,500 runners representing 52 schools from all over Nassau and Suffolk Counties. I thought at best we would not be embarrassed and would finish somewhere in the middle of the pack," said the longtime coach. "I did not expect to win."
The Harwood seniors rewarded coach Kerrigan with double victories. The races were scored by class. Harwood had participants in all eight races from freshman girls to senior boys.
What follows are the highlights for each race. All races had over 200 participants. See just-in-time-racing.com for complete results.
Freshman Girls: Lily Clark, 55th, and Madeline Strasser, 72nd.
Freshman Boys: Colin Fennelly, 42nd, and Tristan Touchette, 58th.
Sophomore Girls: Charlotte Boyden, 11th, and Aenea Mead, 86th.
Sophomore Boys: Nathan Palmerio, 31st, Kyle Dash, 52nd, and Enzo Cormier, 78th.
Junior Girls: Sophie Dasaro, 43rd.
Junior Boys: Sam Nishi, 1st, Jacob Palmerio, 15th.
Senior Girls: Marla Davidson, 4th, India Harvey, 8th, Ellie Ramsey, 9th, Alice Woodruff, 18th, and Shelby Parette, 50th.
Senior Boys: Geoffrey Kazlow, 4th, Caleb Kessler, 7th, Nathaniel Kazlow, 16th, Noah Evans, 50th, Sam Robinson, 70th, and Eli Winters, 74th.
"We kind of blended in with the other schools until Charlotte turned some heads by almost cracking the top 10. After Sam's race, our kids were noticed. Sam's victory completely unraveled the crowd. They were expecting a duel between Joshua Hadity of Commack and James Burke, the Port Jeff phenom that is also a 4:13 miler. Sam got some distance on Burke at the top of Cardiac and outkicked Hadity at the finish. It got the crowd going 'Who is this team from Vermont?'" Kerrigan recounted.
"The senior girls' race was expected to be a duel between Smithtown, Islip and Northport High Schools. Harwood packed three girls in the top 10. Marla, 4th, India, 8th, and Ellie, 9th, kind of sealed it up for us. They beat pre-meet favorite Smithtown by 15 points," said Kerrigan.
The senior boys' race was expected to be dominated by Shoreham-Wading River High School.
"Our boys were 8th, 21st and 24th at the bottom of Cardiac. At the finish they were 4th, 7th and 16th. All of that running on the hills of South Duxbury has paid off for the Highlanders," he added.
The Harwood cross-country team thanked all of the parents, especially the parents of seniors, that helped fundraise over the past four years. They also thanked the people who participated in the summer fun run, which helped make this event possible.
Next week, Harwood runners compete for the New England Small School Championship title in Manchester, New Hampshire.