Category: Sports
Created on Thursday, 07 November 2013 12:30
Last Updated on Thursday, 07 November 2013 12:30
Published Date
Written by VR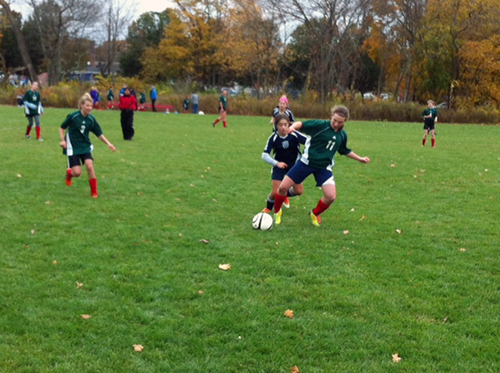 This past weekend, November 2 and 3, Mad River Valley girls' U-14 soccer played a very respectable four-game tournament at the Barrington Invitational Soccer Tournament in Barrington, Rhode Island.
Eighteen seventh- and eighth-grade girls from The Valley, along with four coaches and a supporting contingency of grandparents, parents, siblings, cousins and dogs, traveled the four-plus hours to join the annual tournament. The tournament, in its 33rd year, hosts boys' and girls' soccer teams for players in U9-U14 leagues from throughout New England.
John Stokes and Rob Rosen serve as head coaches of the U-14 girls' team, along with assistant coaches Andy McMahon and Liz Harris. The team is organized for a spring 2014 season, but coaches ran several fall practices leading up to this one fall tournament to get an early start on their spring season.
Saturday, November 2, on a mild fall day, the team won their first game 2-1 against Portsmouth, Rhode Island, with their first by forward Anna Duffy. Their second Saturday game ended in a 0-0 tie against East Lyme, Connecticut.
Sunday ushered in much colder temperatures and a first game against Barrington, Rhode Island. The teams were well-matched and the game remained scoreless in the first half, but Mad River Valley could not stop the Barrington team from scoring two consecutive goals in the last 10 minutes of the second half.
The team's second game on Sunday against Warren, Rhode Island, played out much like the day's earlier game. Though Mad River dominated much of the game and held a score of 0-0 into the half, Warren ably placed a single goal in the second half to win the game.
The Mad River Valley team played a solid tournament, particularly given that most of the opposing teams are year-round teams. With such ability this early in their season, expectations will be running high for the Mad River Valley team this coming spring.
Players at the tournament include Natasha Burbank, Shannon Cook, Kaia Cormier, Abbey Dooley, Anna Duffy, Meagan Filkowski, Anna Fortier, Eve Golden, Lauryn Green, Keara Hallam, Mary Harris, Posy LaBombard, Emma McGeorge, Kate McMann, Ciara Mead, Eleanor Reilly, Sophie Rosen and Kelly Tynan. Kyle Marie Hekeler and Lilianna Ziedins are also team members but were absent from the tournament.