Category: Sports
Created on Thursday, 07 November 2013 12:34
Last Updated on Thursday, 07 November 2013 12:34
Published Date
Written by VR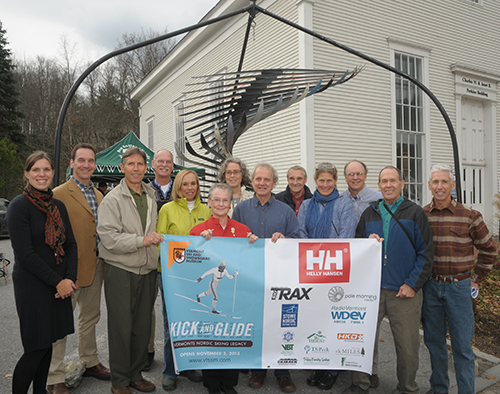 Nordic enthusiasts from The Valley and beyond thronged to the grand opening of Kick and Glide: Vermont's Nordic Skiing Legacy, the newest exhibit at the Vermont Ski and Snowboard Museum, Stowe, on November 2.
Local aficionados included Ben and Wendy Bridgewater, Bob Cook, Gene Foley, Deb and Dickie Hall, Rob Center, Kay Henry, Sandy Macys, Freddie Mahlmann, Tom McCarthy, Marie McLeod, Peter Oliver, Lenord Robinson and Doug Wilson.
A helical spiral of 40 cross-country skis from the 1970s and 1980s designed by John Tidd, inventor of Tidd-Tec snow-grooming equipment, with skis donated by Joe Pete Wilson of Keene, NY (1960 Olympics), served as a fitting backdrop for opening remarks from the exhibit's curators, museum directors and Parker Riehle, Vermont Ski Areas Association, and Gregory Gerdel, Vermont Department of Tourism & Marketing.
The exhibit provides a comprehensive overview of the integral role and influence Vermont holds in the past, present and future of Nordic skiing. Displays chronicle the storied legacy of Nordic skiing, biathlon, telemark skiing and Nordic jumping in Vermont and the state's contributions to the sport at large. The personalities, ski centers, athletics, companies, competitions and events that formed Vermont's Nordic skiing scene are highlighted in the exhibit.
Among those in attendance were Vermont past Olympians Larry Damon (1956, 1960, 1964, 1968), Dennis Donahue (1976), Stan Dunklee (1976, 1980), Jim Galanes (1976, 1980, 1984), Marc Gilbertson (1998), Bob Gray (1968, 1972), Trina Hosmer (1972), Martha Rockwell (1972, 1976) and Bucky Broomhall who started the Torger Tokel League in 1969, now known as the Bill Koch League, to develop skiers not yet in high school.
Vintage Synthetic Nordic Track with Fischer Zero Mohair skis (1970s), the latest trail grooming equipment, snowmaking technologies, adaptive ski equipment and a chance to try a hand at Nordic ski erg laser biathlon took place outside the historic 1818 Old Town Hall.
Afterwards, at Trapp Family Lodge in Stowe, 100 Nordic enthusiasts listened as Max Cobb, USA Biathlon, and Peter Graves, USA Ski Jumping, shared an overview of the 2013-2014 Nordic, Nordic Combined, Biathlon and Nordic Jumping U.S. Ski Teams.
Kick and Glide, Vermont's Nordic Skiing Legacy will run from November 2, 2013, through October 13, 2014. For more information, contact Meredith Scott, director/curator, at This email address is being protected from spambots. You need JavaScript enabled to view it..