Category: Sports
Created on Thursday, 19 December 2013 11:01
Last Updated on Thursday, 19 December 2013 11:01
Published Date
Written by Steve Skilton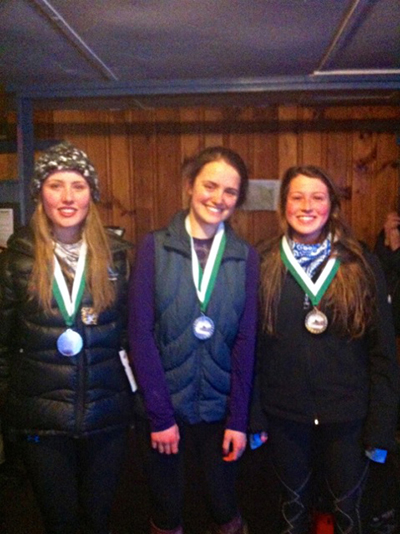 By Steve Skilton
The Harwood Union alpine ski teams opened the season with a two-run slalom at Burke Mountain on Monday, December 16. Both Harwood teams captured top honors in a seven-team meet hosted by St. Johnsbury Academy.
Leading the Harwood girls were Megan O'Shea in first and Callie Anderson in second place with both racers skiing two solid runs for the team. Sarah Wry came in 9th, Maddie Lowe, 12th, Amy Graham, 14th and Ragan McMann, 25th and got the Harwood girls off to a great start for the season. Maddie McGeorge, 27th, Ashley McNeish, 29th, Piper Beikle, 30th, Isabella Harris, 36th, Mercedes Woolley, 39th, and Anna Belongia, 40th, all skied well for the team and showed Harwood's great depth this season.
The Harwood boys were led by freshman Austin Taylor in fifth and John Egan in sixth place. Hobey Weston, 8th, Matt Crowell, 16th, Malcolm Purinton, 46th, and Asah Whalen, 61st, all put in solid runs and a fine team performance for the Harwood boys. The teams are off until after the holiday break.
Harwood sports roundup
Boys Hockey
Milton 5, Harwood 0: On Wednesday, December 11, at Cairns Arena, Harwood lost to Milton at Cairns Arena. The Yellowjackets goalie had 16 saves for the shutout.
Mount Mansfield 5, Harwwood 3: On Saturday, December 14, Mount Mansfield scored four goals in the second period to defeat Harwood. Ty Delphia had two goals for Highlanders.
Girls hockey
Champlain Valley-South Burlington 7, Harwood 2: On December 14, Katie Martin and Ali Yandow scored and Siena Damon made 23 saves for Harwood but couldn't overcome the seven goals of Champlain Valley-South Burlington.
12/6
Northfield 4, Harwood 0: On December 6, Northfield won over Harwood at the Butsch Tournament, hosted by U-32. Siena Damon turned away 47 shots for Harwood.
Girls Basketball
12/14
Harwood 53, Vergennes 45: On December 14, three Harwood players netted double figures as the Highlanders beat visiting Vergennes. Jennifer James was high scorer with 17 points, Lauren Harper had 14 and Peyton Burr 10. Boys basketball
Boys Basketball
Harwood 50, Peoples 48: With two seconds remaining in the game on December16, Vikram Seethepalli's scored two free throws to take the win against Peoples Academy. High scorer was Seethepalli with 11 points followed by Dominic Moreno's 10 points.