Category: Sports
Created on Thursday, 13 February 2014 13:51
Last Updated on Thursday, 13 February 2014 13:51
Published Date
Written by Peter Oliver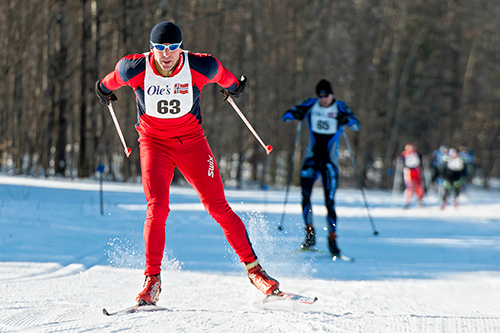 By Peter Oliver
The annual Valley Cup held as a skate race at Ole's in even years and a classic race at Blueberry Lake in odd years has an Olympic pedigree. The names of numerous Olympians are engraved on the cup (or, more accurately cups, since four are awarded to men's and women's senior and junior winners). The well-weathered men's cup has been up for grabs for nearly 40 years and is a highly coveted trophy upon which to have your name engraved.
For last Saturday's Valley Cup, skiers with Olympic credentials were notably missing. In the business of scheduling a race in the few crowded months of winter, conflicts with other events are inevitable. So it was on Saturday – on the same day as the Valley Cup – a prestigious Super Tour race was being held at the Craftsbury Outdoor Center, and over in Russia, some other little event was also drawing the attention of elite racers.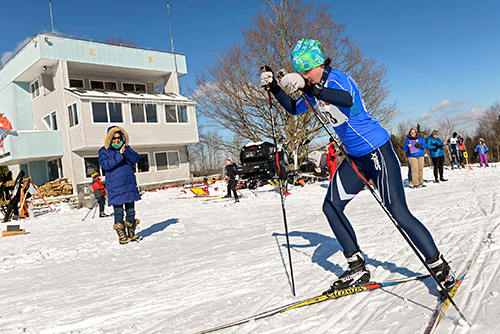 But at least the weather gods Saturday morning showed up at Ole's with full, Olympic-level glory. Fresh snowfall from early in the week turned the 10.6-kilometer course into a sweetly smooth magic carpet; the sun shone brightly; the wind was barely a whisper. And the lack of Olympians wasn't necessarily a bad thing. As Jarlath O'Neil-Dunne, a Valley Cup racer who logs many hours at Ole's during the course of the winter, put it: "The absence of Olympians in this year's running helped all of us in the standings."
O'Neil-Dunne finished a most respectable seventh, but among the men, the day belonged to local XC maestro Reid Greenberg, who arrived for the Valley Cup with the entire family Greenberg in tow. There was wife Laurie, with infant in arms, helping with race registration. There, too, was the next generation of Greenberg speedsters, Mackenzie and Tabor, who would compete in the junior race after the grown-ups had completed their 35-or-so minutes in what endurance athletes sometimes call "the pain cave."
Father Reid has become something of an institution at Ole's, where he is known for his near-maniacal speed work, going as hard as he can in intervals of a minute or so. Given that the course at Ole's was relatively flat by cross-country racing standards, pure, straight-ahead speed was at a premium and Greenberg made the most of it.
He went to the lead right at the start and stayed there, finishing in a time of 33 minutes, 12 seconds. The only guy able to stay within shouting distance was Jon Miller, another Ole's regular, who came in with a time of 34:36. Completing the podium was Jonathan Rodd, whose time was more than three minutes arrears of Greenberg's, but hey – not bad for a 50-something skier.
The women started their race just after the men and, like Greenberg, Maddy Pfeiffer jumped into the lead at the start and stayed there, unchallenged. A 2013 graduate of Green Mountain Valley School, Pfeiffer had gone off to college this fall in Alaska but returned from the Last Frontier in short order, deciding that her heart was really in New England. Not competing on the college circuit this winter, she had plenty of time to focus on non-collegiate events like the Valley Cup.
Finishing in 37:15, roughly two minutes faster than runner-up Dorrie Martell (and faster than all but five men), Pfeiffer added her name to a cup that includes such illustrious names as former Olympian Caitlin Compton. Third went to local luminary (and Bill Koch League coach) Amy Jamieson, who seems never to have met any athletic endeavor that she's not good at.
The junior winners were GMVSers Walker Bean and Gabi Hawkins, whose times for the five-kilometer course were 15:06 and 17:20, respectively. And not too far back, racing on an abbreviated 2.5k course, were the younger members of Team Greenberg, Mackenzie and Tabor, raffishly attired in a multi-colored cap. Now that they have been bitten by the Greenberg racing bug, they are likely to be seen in the future joining dad in his gut-busting interval workouts. Congrats to all the Greenbergs and the rest of the 30-some other competitors who made it quite a day, however non-Olympic, at Ole's.