Category: Sports
Created on Thursday, 27 February 2014 10:16
Last Updated on Thursday, 27 February 2014 10:52
Published Date
Written by VR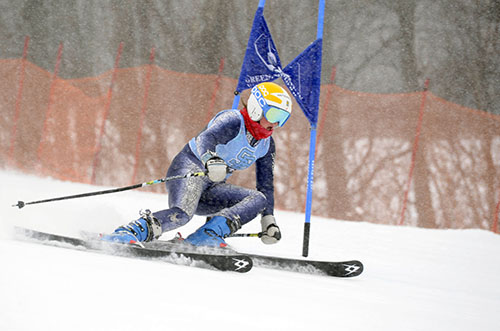 On Monday and Tuesday, February 24 and 25, Harwood alpine teams competed in the NVAC District meets, which are the qualifier for the state ski meets to be held next week. Both Harwood teams will be moving on and competing with a fourth-place finish for the Harwood boys and a second-place finish for the Harwood girls.
At the slalom held on Monday at Stowe, Meghan O'Shea led the Harwood girls' team with a fine third-place finish in a field of 80 skiers. Mercedes Woolley, 11th, Sophie Dasaro, 17th, Sarah Wry, 32nd, and Piper Beilke, 38th, placed the Harwood girls in first place for the event.
Freshman Austin Taylor led the Harwood boys with a solid performance and a third-place overall result in a field of 86 skiers. John Egan, 9th, Matt Crowell, 14th, Alec McGlynn, 24th, and Ben Friedman, 28th, placed the Harwood boys' team in second place for the event.
The giant slalom was hosted by Harwood at Mt. Ellen with the generous support of Green Mt. Valley School and Sugarbush Resort. Megan O'Shea paced the Harwood girls' team again with two solid runs to place fifth overall. Mercedes Woolley, 10th, Maddie Lowe, 21st, Sophie Dasaro, 24th, and Ragan McMann, 60th, led the team to the runners-up position in the two-day competition, an outstanding result for the Harwood girls' team.
The Harwood boys were led by Alec McGlynn, 16th, and Matt Crowell in 17th. John Egan placed 35th. The three other competing skiers did not complete the event, thus moving the boys back to fourth overall for the meet.
The teams head to the Middlebury College Snow Bowl on Monday, March 3, and to Burke Mt. on Wednesday, March 5, for the state meets.