Category: Sports
Created on Thursday, 13 March 2014 12:43
Last Updated on Thursday, 13 March 2014 12:48
Published Date
Written by VR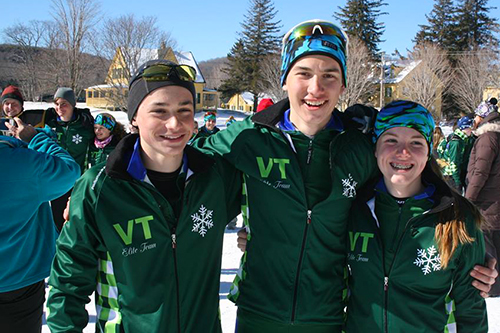 Harwood Nordic skiers Noah Eckstein, Philip Hekeler and Madeline Strasser represented Team Vermont at the U16 New England Championships held at Rikert Nordic Center in Ripton.
Competition at the championships consisted of teams from Maine, New Hampshire, Vermont, Massachusetts and New York. Each team is comprised of the top 20 male and top 20 female racers from that state. "The competition to qualify for this year's team was the strongest in memory," veteran Vermont team coach Mark Chaplin noted.
Racers competed in four races over three days. Day one featured a 5k freestyle race where Madeline Strasser finished 11th and Philip Hekeler 31st. Vermont had the point lead going into day two, but the Maine team came out strong in the classic 5k race. The afternoon of day two showcased the racers in a 1.5k freestyle sprint. Noah Eckstein placed 18th in the sprint.
It was a close points race coming into the final day of competition with Maine trailing Vermont with the majority of the weekend's points still on the line. Vermont came on strong in the 4x2.5k mixed medley relay, skiing solidly to claim the title for a second consecutive year.
Harwood senior Grace Butler will ski this weekend at the U18 New England Championships at Mountain Top in Chittenden.