Category: Sports
Created on Thursday, 27 March 2014 09:07
Last Updated on Thursday, 27 March 2014 09:07
Published Date
Written by VR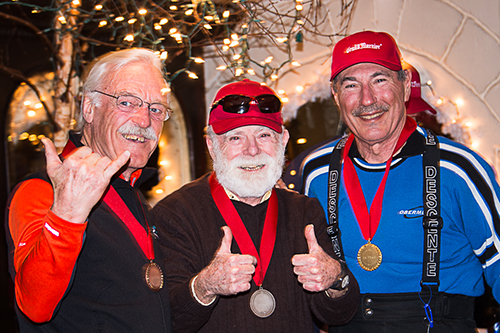 Seventy-six skiers and nonskiers participated in the 26th annual Chez Henri Cup ski race and raffle on Saturday, March 22, at Sugarbush. Proceeds from the race went to the Mad River Valley Health Center.
The event began Friday night with a gala fondue party at Chez Henri (cheese courtesy of Cabot Creamery Co-op). Racers and nonracers registered for the race and for the after party raffle. Participants received hats from the race sponsor, Grand Marnier, and a preview of the major prices that would be awarded at the post-race party. Danielle Hampton, race director for Sugarbush, organized the racing.
On Saturday, each racer took two runs on the Racer's Edge NASTAR course. The best time of the two runs determined the racer's time. The best time for the women was 30.41 set by Nicole DeFau and Chris Lowenstein had the best men's time of 27.45. Jerry Coyne was the oldest participant at 90 years old and he has competed in almost all of the Chez Henri races.
At 3 p.m. on Saturday, everyone got together at Chez Henri to congratulate each other, receive their medals and, hopefully, win one of the more than 40 prizes.
"We want to thank all those merchants who donated prizes for this worthy cause. Thanks also to the 76 participants who have once again made the Chez Henri Cup the premiere event of the ski season," said Jack Miner, president of the Mad River Valley Health Center board of directors.