Category: Sports
Created on Thursday, 03 April 2014 10:41
Last Updated on Thursday, 03 April 2014 10:41
Published Date
Written by VR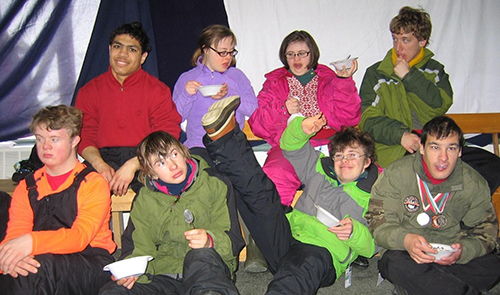 The Vermont Adaptive Ski and Sports/Sugarbush alpine race team competed at the 2014 Special Olympics Winter Games held March 8 and 9 at Suicide Six, S. Pomfret.
The 10 athletes who competed in the slalom, giant slalom and super G events are Phillip Kellum, Christopher Riley and Grace Kirpan of Moretown, Tommy Johnson of Warren, Bennett Townley of Williston, Gabriel Teran of Montpelier, Josh Bartold of East Montpelier, Lelia Volmer of Craftsbury and two new team members, Melissa Lansky of Montpelier and Justin McQuiston of Willsiton.
Competing in the advanced division 3, Kellum won bronze in slalom and placed fourth in giant slalom and super G. In the advanced division 2, Bennett Townley placed fifth in GS, slalom and super G.
Competing in their respective divisions for the intermediate races, Josh Bartold won gold in slalom. Tommy Johnson placed fourth is GS, won silver in slalom, and placed fourth in super G. Gabriel Teran won silver in GS and super G and bronze in slalom. Grace Kirpan won silver in GS and placed fourth in slalom and super G. Christopher Riley won gold in GS, placed fourth in slalom and fifth in super G. Lelia Volmer received a ribbon in GS and won silver in both slalom and super G. Justin received ribbons in GS, slalom, and super G, and Melissa Lansky, just 8 years old, received ribbons in GS and super G.
The athletes thanked head coach Henry Erikson, race coach Julie Markarian, the VISTA AmeriCorps member doing her service year with Vermont Adaptive, Heather Timins, program director for Vermont Adaptive at Sugarbush, Matt and Vasu, the Vermont Adaptive interns, and the many dedicated volunteers at Vermont Adaptive who assisted as coaches. They also thanked Sugarbush, home mountain to the race team for many years.
For more information on how to become involved with Vermont Adaptive at Sugarbush, contact Heather Timins, 802-343-1193, This email address is being protected from spambots. You need JavaScript enabled to view it., or visit the website www.vermontadaptive.org.