Category: Sports
Created on Thursday, 10 April 2014 12:02
Last Updated on Thursday, 10 April 2014 12:02
Published Date
Written by Lisa Loomis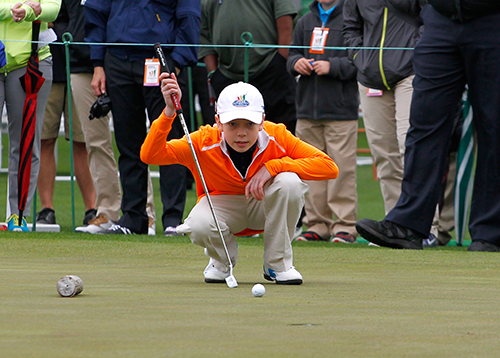 By Lisa Loomis

Jon Honeywell, the 9-year-old son of Chris and Dave Honeywell of Fayston and brother of 13- year-old Nate, took third place in the national Drive, Chip and Putt competition for youth golfers that was held in Augusta, Georgia, at the course where the Masters golf competition is held.

Honeywell qualified to compete by winning the regional Drive, Chip and Putt competition last summer. The Drive, Chip and Putt competition is a program designed to encourage kids to play and compete in golf. It is sponsored by the Masters Foundation, the PGA and the USGA.

Dave Honeywell said that the youth competition was aired live on the golf channel on Sunday and that Jon was one of the 11 boys in the 7 to 9 age range qualified to compete.

"It was early in the morning and chilly and there was a big audience, cameras plus an electronic score board with his picture on it. The first event is the drive, which is normally his strongest portion, but in this competition, it was his weakest. I think some nerves were in place there. They had two drives and the longest one counted. His first drive was out of bounds and his second was 143 yards. Normally he hits about 75 to 200 yards. If he had been in his normal range, he would not have been eighth going into the chipping portion," his dad said.

Jon Honeywell hit two good chips, about 25-yard shots, and came in third in the chipping portion which moved him from eighth to fifth place overall.

"Then came the putting portion, which was a six-footer. He rimmed the cup on that. These greens are in prime condition for the Masters tournament and the kids weren't used to putting in these fast conditions. So he rimmed the cup on the first one and ended up 18 inches from it. His second putt he hit a sliding 30-foot downhill shot. He hit it just softly enough to take the slope. His final putt took place on the 18th green at the Masters. Most people will never have that opportunity in their life!" his dad said.

The third and final putt saw him hit a 15-footer, which sloped slightly to the left and he ended up just left of the hole. That put him in second place in the putting portion and in third place overall, earning him a trophy or "some bling," as his dad said.

Jon and his family flew from Burlington to Atlanta and then drove to Augusta on Saturday where they participated in a welcome dinner for all the competitors that included former Secretary of State Condoleezza Rice who was the first female member of the club.

"Part of the whole package was practice round tickets to the Masters for the competitors and their families. People wait in lotteries to be able to go, but because he made the finals and was invited to the nationals we got four practice round tickets. We got there at 9 a.m. on Monday morning and by 10 a.m. there was lightning and storm warnings and officials had to get about 30,000 people off the course and practice round was shut down," Dave Honeywell said, from their hotel room on Monday afternoon.

"But when we got back to the hotel this afternoon, we received an email letting us know that the 88 participant families in the Drive, Chip and Putt competition would have their practice round tickets honored on Tuesday, so we will be able to see some golf before we head home at 4:30 p.m.," he added.

Jon, who is already signed up to compete in next year's event, started playing golf on the front yard when he was 3 years old.

"We had a target green in the front yard with a hitting mat and he started picking it up. He has great eye-hand coordination. After a couple of years we progressed to the Sugarbush Golf Course putting green and then worked our way onto the course," Dave Honeywell explained.

Since that time he had golfed with his father, who works in the golf industry, at many Vermont courses and the family has made golf the focus of family vacations as well. His main coach is Steve Gonsalves, head pro at the Links at Lang Farm.