Category: Sports
Created on Thursday, 08 May 2014 10:54
Last Updated on Thursday, 08 May 2014 10:54
Published Date
Written by VR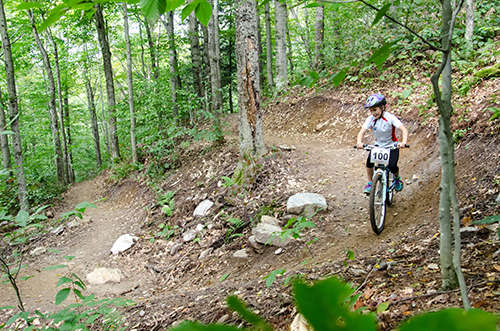 The International Mountain Bike Association (IMBA) has awarded Model Trail designation to the Blueberry Lake Trails in the Green Mountain National Forest. The network, a result of collaborative efforts among the Mad River Riders-Vermont Mountain Bike Association (MRR-VMBA), Sustainable Trailworks LLC and the United States Forest Service, received a Gateway rating, meaning that they are ideal for entry level riders.
www.imba.com/gateway-trails/blueberry-lake
The friendly fun routes were designed by Sustainable Trailworks, with guidance from the MRR-VMBA and the U.S. Forest Service (USFS). They were built by mainly by Sustainable Trailworks, supported the Vermont Youth Conservation Corps, Green Mountain Valley School and MRR-VMBA, with funding from several sources, including the USFS, Winthrop J. Smith Foundation/ Sugarbush Resort and many more supporters.
On National Trails Day in early June 2013, Phase 1 of the network officially opened, with two loops totaling more than four miles of beginner-intermediate trails. Experts also appreciate the network's fast flow, making it great for mixed-ability groups too.
Phase 2 trail development is scheduled to start soon with an official Groundbreaking Ceremony on June 8, 2014, followed by guided group rides/hikes and a Season Kickoff Party at The Common Man in Warren. Phase 2 will add a gentle beginner loop with views of Blueberry Lake and a half-mile intermediate connector trail into the existing network. Phase 2 fundraising is close to completion, but help is still needed. To designate tax-deductible donations to MRR-Blueberry Lake-Phase 2 visit https://vmba.org/donate.
The MRR-VMBA announce a new partnership for 2014, sharing all of VMBA's statewide chapters and over 650 miles of public trails in one inclusive membership package, complete with a valuable set of bike and VT-related benefits.
https://vmba.org/membership.