Category: Sports
Created on Thursday, 05 June 2014 11:26
Last Updated on Thursday, 05 June 2014 11:26
Published Date
Written by Lisa Loomis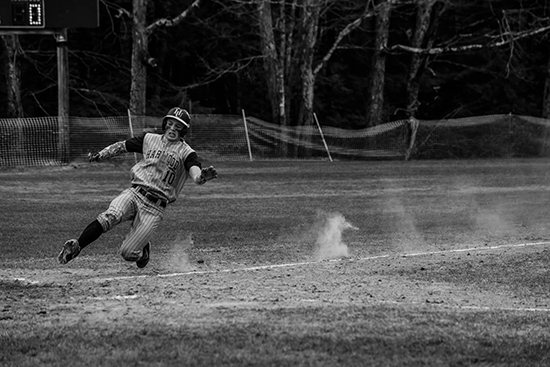 By Lisa Loomis
Harwood Union's varsity baseball team is 12-1 for the season and heads into the Division 2 tournament this Friday as the number-one seed. Harwood will play Bellows Falls on Friday, June 6.
A win on Friday will mean that Harwood will play either Lyndon or Lamoille. Lamoille is the one team that beat Harwood this year, although Harwood did beat them the second time they played.
Coach Mitch Casey said that the Harwood team has seven seniors this year, all of whom have contributed greatly to the team this season. One of his seniors is Matt Fischer, who offered his thoughts on the season.
"I, as well as the other three captains, have been three-year starters for the team and have been looking forward to this year for a while. After a disappointing season last year where we never really got everything together and lost in the first round, many of us were motivated to make this year better," said the senior, co-captain and catcher, Fischer.
"Through summer ball and/or hitting the gym, many of our players stepped up and increased their skills quite a bit. All of our seniors have made big contributions this season. As far as this season, we came in confident and hoping to prove a point after last year. After losing to Lamoille, our goal was to win out for the rest of the season and everyone stepped up to achieve this. In a way, I am thankful for the loss as a motivator to not be complacent going into playoffs, and it surely makes for a very interesting potential semifinal match-up," Fischer said.
"As far as strengths on the team, I don't believe there is any single greatest strength. Both our pitching and outfield have been phenomenal all year and a real strength to the team. In my opinion our greatest strength is the lack of weakness in all nine positions. There is not one position that is weak and this was shown after losing our starting shortstop Dylan Bailey partway through the season. With the shuffling of our infield and some players who typically sat the bench showing they could fill in, we remained powerful in all nine positions," he added.
"Matt Fischer, catcher, is probably one of the best catchers in the league. He calls great games and umps love to ump behind him because nothing gets past him. His 15 minutes of fame this year was a walk-off double to win our second game against Lamoille," Casey said.
At first base for Harwood this year are two seniors, Tyler Atwood and Ryley Abare.
"Atwood is also a big left-handed pitcher with a great curve ball. His record is 4-0 this year. Ryley Abare leads the team with home runs this year. He's had two. He'll probably see time in the playoffs in the outfield as well," Casey said.
"Ty Delphia is pretty steady on second base. Although, right now he is injured. He is a hockey player as well and he dislocated his throwing shoulder during hockey season and it keeps popping out. I don't know if he's going to be ready to play by Friday, but we hope so," Casey said.
Luke Russell is Harwood's shortstop and number-one pitcher, Casey said.
"He'll probably be on the mound on Friday. His only loss this year was against Lamoille. He threw a two-hitter and we still lost," Casey said.
In left field is Dom Moreno who is also the team's number-one pitcher.
"He's got some pretty nice pitching stats, he's 4-0 and his earned run average is zero, which means he hasn't allowed an earned run all year. As a team we only allow 1.2 runs per game which is really stingy," Casey added.
"The team's ERA is 0.52. We don't give up too many runs. We don't score a lot, but we score what we need to," Casey said.
Harwood's number-three hitter is Dylan MacIsaac, center fielder.
"He's steady out there and he leads the team in on-base percentage and stolen bases. He's only made one error in a year," Casey said.
With the seven seniors departing, including team captains MacIsaac, Fischer, Moreno and Russell, Casey is looking to his underclassmen for next year.
"We've got John Davis, a junior who we call Steady Eddie because he is so consistent on third base. He plays a hot corner and he plays it well," Casey noted.
The team lost their shortstop, Dylan Bailey, a junior, midway through the season due to a stress fracture in his right elbow.
"It's tough when you lose your shortstop halfway through the season. Sam McGinty has been filling in for Dylan. He is a sophomore who also pitches and covers second base and plays shortstop and outfield. He is a jack of all trades and has been filling in nicely for anyone who is injured or out. He will see plenty of time in the playoffs," the coach said.
Other up-and-coming underclassmen include Matt Crowell, a junior, who is backup second baseman, and Matt Green, third first baseman who hasn't see a lot of play this year with two seniors ahead of him.
"But he will next year. He'll play pretty much every game. He has improved significantly along with Adam Lamson, a junior who was our starting left fielder," Casey said.
Casey said that this year's Harwood JV team has had a fairly successful year and that the incoming freshman class has a lot of good players as well. This is his 12th season as head coach and he has been coaching Harwood baseball for 17 years total. A former Harwood baseball player himself, he had 30 years of coaching experience from Little League to Babe Ruth onward. He has five grown sons, four of whom played ball for him.