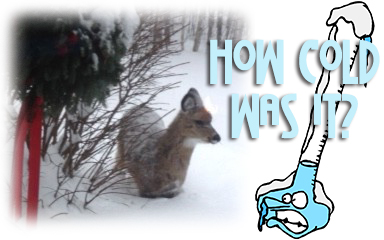 Yup. February was really cold. So was January. Colder than last year and last year was colder than the year before, thanks to the Polar Vortex.
The average temperature in Waitsfield last month was minus 2. That compares to the average February temperature for 2014 of 8 degrees. The average February temperature in 2013 was 12 degrees.
A heating degree day is the number of degrees that a day's average temperature is below 65 degrees, the temperature below which buildings generally need to be heated. The price of weather derivatives traded in the winter is based on an index made up of monthly heating degree day values.
This January, the number of heating degree days was 1,722, according to the Weather Data Depot website (weatherdatadepot.com). January 2014 (the year of the polar vortex) saw 1,667 heating degree days. January 2013 saw 1,548 heating degree days.
Heating degree days this February were 1,738, compared to 2014's 1,447 and 2013's 1,331. Looking at the data, February generally has fewer heating degree days than January, so this winter's increase in heating degree days from January to February is unusual.
January and February's combined heating degree days this year are significantly higher than in years past. This year's combined two-month total is 3,458. In 2014, that total was 3,114. The total was 2,879 in 2013 and 2,133 in 2012.
Cumulative calendar heating degree days for 2014 came to 9,764. In 2013, that number was 9,443. The 2012 total was 6,702 and the 2011 total was 7,616.