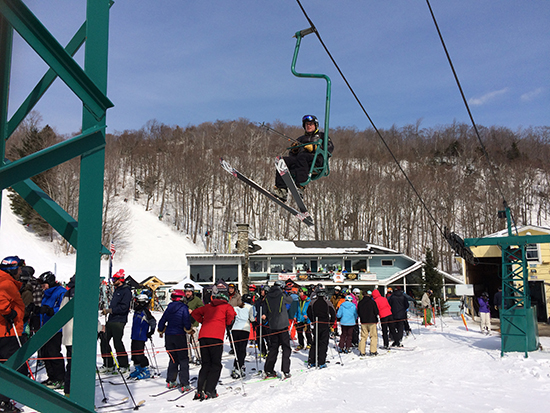 By Rachel Goff
Last weekend, March 7 and 8, over 200 free-heelers came out for the North American Telemark Organization's (NATO) 40th telefest at Mad River Glen ski area. This was Waitsfield resident and NATO founder and director Dickie Hall's last year putting on the two-day festival, which when it first started in 1975 was the only telemark gathering of its kind.
Telemark skiing, which originated in Norway in the 1800s, combines aspects of Nordic and alpine techniques. "It was one of the original ways of turning skis," Hall said, speaking of the style that allows skiers to travel down a mountain with a free heel, turning their skis in a graceful, lunge-like arc.
Hall was first introduced to telemark skiing in the early 1970s, when he was working as a cross-country skiing instructor in southern Vermont. "I saw a picture of a telemark turn in a book from the 1930s, and I went out and tried it in my Nordic gear," he said. "I've basically been doing that ever since, and then it turned into a sport," Hall said.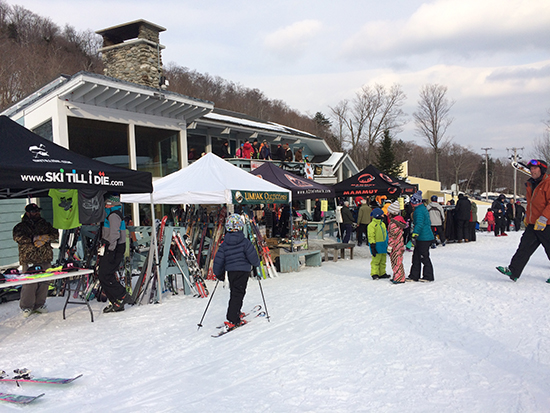 When the telefest first started, "It wasn't really an event for the public," Hall said. Back in 1974, "There were only 13 people in the eastern United States that telemarked, and we all went to Pico and skied together for a day. After that we just kept doing it," he said, and the event grew from there.
Last Saturday and Sunday, cars filled the parking lot at Mad River Glen and overflowed along the sides of Route 17 as it travels over the Appalachian Gap. While some were there to take advantage of the sunny, above-20s temperatures in alpine gear, most were there for the telefest, which featured demos, clinics and competitions at the base of General Stark Mountain.
Looking back on 40 years of the telefest, it never could have happened without the support of Mad River Glen, Hall said. When Hall was looking to start a telemark ski school back in the 1980s, he went all around Vermont and New England asking resorts if they would host it and got turned away by everyone except the ski-it-if-you-can mountain.
At the time, Ken Quackenbush was the general manager at Mad River Glen and when Hall asked if he could start a telemark ski school there, "Ken said, 'That's really cool, sure,'" Hall said. The ski school was the first of its kind, "and Mad River Glen has been an exceptional home base," Hall said. Free-heel skiing has become more popular at other resorts in recent years, but Mad River Glen "is still the telemark mecca, as far as I'm concerned," Hall said.
After four decades of putting on the telefest with his wife, Debra, however, "It was time to move on to other things," Hall said of his decision to end the event. But it would end on a high note, he clarified. "Did you ever see the documentary The Last Waltz?" Hall asked. "Well, that's what we're doing," he said of the last telefest. "We're celebrating 40 years by having one last big party."
Moving forward, Hall will continue to work as director of NATO, organizing events and workshops across the eastern United States. "Why would I retire?" he asked. "What would I do, go skiing? I do that already," he said.
And even without the telefest, Hall is optimistic about the future of free-heel skiing. "I've spent my whole life promoting telemark," he said. "That's all I've ever done. And I'm pretty confident that if I step back for a few years, it will be OK."