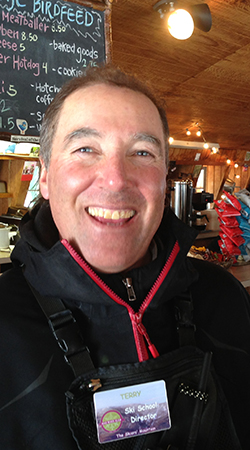 Mad River Glen's Ski School director, Terry Barbour, is the 2014 recipient of the Professional Ski Instructors Association's (PSIA) Einar Aas Award. Barbour has served as Mad River Glen's ski school director since 2001 ushering in an era of renaissance for the Mad River Glen Ski School.
"The entire Mad River Glen community, generally, and his ski school instructors and students, in particular, are thrilled to see Terry receive this incredibly well-deserved honor," said spokesperson Eric Friedman.
This PSIA award is presented to a snow sports school director as a tribute to Einar Aas and to honor his memory. Einar Aas was an outstanding snow sports school director; his dedication to his students, his school, PSIA and the snow sports industry is legendary. This award recognizes dynamic leadership of a snow sports school while achieving and maintaining the highest standards as nominated by members and selected by his or her peers.
Aas was born in Trondheim, Norway, on July 6, 1934. He moved to Montreal, Canada, in 1960 and taught skiing at Gray Rocks while working as a mechanical engineer. Aas was certified by the Canadian Ski Instructors Association and became an examiner in 1962. He later taught skiing at Mount Snow and at Blue Hills and was the director of the ski school at Madonna Mountain (now Smugglers' Notch) in Vermont. Aas became an Alpine Level III member of PSIA-E, having joined in 1964. Also in 1964, he began teaching skiing and running the racing program at Butternut Basin (now Ski Butternut) in Great Barrington, MA. In 1968, he became the director of Butternut Ski School, a position he held until he passed away on July 13, 2008, after a long battle against cancer. Aas was involved on the early board of directors of the national association and was a founding father on the original board of the eastern division.
{loadnavigation}