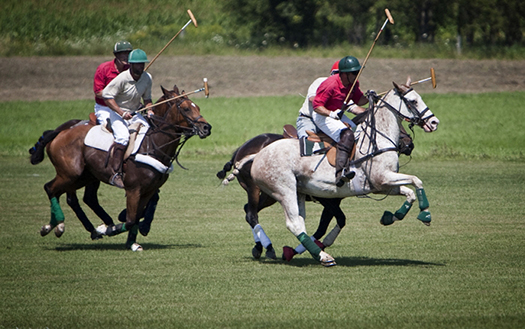 UPDATE: 07/02/13
Sugarbush Polo Club returns to Flemer Field in Waitsfield after a four-year hiatus! Club members will play at 1 p.m. on Sunday, July 7, weather permitting. The matches are free and open to the public and tailgating is encouraged.
The familiar sight of polo ponies and players will return to the Flemer Field in Waitsfield this summer when the remnants of the Sugarbush Polo Club return to the field.
Waitsfield polo player Mitch Taylor and Morrisville polo player Jed Lipsky discussed the issue with the Waitsfield Select Board on May 28 and received permission from the board to use the field.
"We came to see if we could use the polo field to practice and play a few games on and, if allowed, we'd clean up after ourselves and put cones along the tree line to make sure nobody rode into the trees. At the end of the season, we'd reseed it," Taylor said.
Lipsky said that the Sugarbush Polo Club would like to have a few tournaments on the field this summer as well as some practices.
"I started playing polo with the Sugarbush club in 1979 with Arthur Williams and Holly Ward. When polo left The Valley it was a loss to The Valley that had an economic as well as social impact. It used to be part of the life here and it went over the ridge to Addison County and Middlebury. And the Stowe Club also faded away and that was a big loss to that community. The idea of using the field to keep the Sugarbush club alive is something we'd like to try, maybe with exhibition matches or charity matches," Lipsky said.
"We're trying to hold on to the experiences of horses and the polo culture in Vermont and encourage some families with younger kids who ride to make polo accessible, not elite," Lipsky explained.
Lipsky, who was on crutches at the meeting, said that his injuries came from logging, not polo, and said polo is the safest thing he does.
The club has a liability policy and has a club policy of replacing their divots and canceling games when the ground is wet or when it is raining, Taylor and Lipsky explained.
Polo players clean up after their horses as well, they said.
The board was unanimous in its support of the proposal.
{loadnavigation}