Lillard takes the helm at Mad River Glen
Written by

Chris Keating and Lisa Loomis

Published in News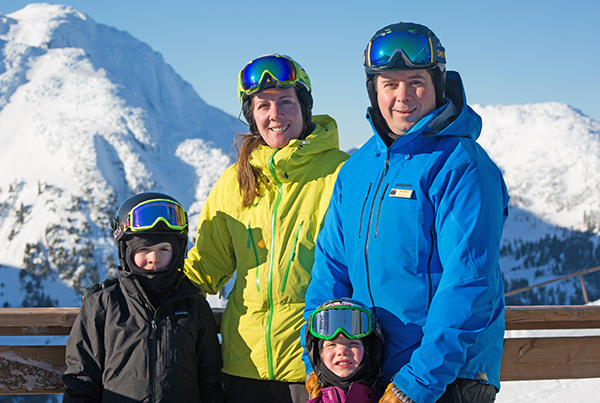 Matt Lillard, Mad River Glen's new general manager, reported for duty at his new job at the beginning of the month when the trails were icy and bare and only the Practice Slope was open.
This week, on March 14, he sat in the Mad River Glen conference room for an interview, with winter storm Stella at full strength behind him, getting ready to take some powder runs on March 15.
Lillard said that the weeks leading up to his arrival almost made him question his career move. He watched the weather forecast on the East Coast as the snow began to melt and it looked as if spring would arrive all too early.
Lillard comes to Mad River Glen from the Eaglecrest ski area in Juneau, Alaska. The similarities between Eaglecrest and Mad River Glen are astounding. Eaglecrest is a municipally owned ski area about the same size as Mad River Glen but with slightly less vertical. Both mountains have four chairlifts and four snow guns.
The biggest differences are that Eaglecrest is situated on an island and managed by a seven-member board. Mad River Glen's co-op is run by a board, albeit a larger one.
He has no immediate plans for wholescale change at Mad River Glen, preferring to absorb and learn initially. He's a fan of the Single Chair and thinks it offers critical alone time.
"A lift ride is about more than gaining elevation," he said.
He hopes to find ways to help Mad River Glen deal with "what Vermont winters are going to be."
"The highs and lows are getting bigger," he said.
In terms of snowmaking, he said that he'll bring a fresh eye to the existing system and look at efficiencies and new ideas about how to use the water that Mad River Glen does have. He hopes to play to Mad River Glen's strengths – its history, its faithful skiers, its owners and its strong race and ski school programs.
Lillard grew up in New Jersey and graduated from Cornell University with a degree in applied economics and business management. He skied Okemo and Magic Mountain in Vermont and began his ski career in marketing at Okemo before he became assistant general manager at Magic Mountain. It was at Okemo that he met his wife, Danielle, a freestyle and mogul coach.
"We used to come up here to ski on our days off. We'd ski here and take an annual trip to Jay Peak," he said. He and his wife were familiar with The Valley and the lifestyle that it promotes. It was something and someplace they intended to get back to. When the Mad River Glen job became available, it was an easy choice, he said.
Even though they loved living in Alaska, they had always intended to move back to the East Coast, closer to their extended family. Lillard said that he figured he would have more time in Alaska, but when the opportunity to run a historic ski area like Mad River Glen presented itself, he had to take it.
"Alaska is a beautiful place; you're never done having adventures," he said. Lillard reminisced about being surrounded by wilderness. He said he could finish work, take his boat and catch a fresh batch of crab in the Alaskan waters for dinner.
"Living in southern Vermont, we always looked to the Mad River Valley as a place we wanted to be. What The Valley offers is certainly attractive. We're looking forward to joining a CSA and buying a half of a cow. But I'm going to miss the fish and crabs," he said.
"We're keeping our Alaska Airlines credit card. We'll be back to visit," he said.
Lillard, Danielle and their son, Bridger, 8, and daughter, Cordelia, 4, and Sugar Magnolia, their 130-pound Newfoundland, will be road tripping from Alaska to Fayston this summer once the school year ends.
Living in Juneau, which is surrounded by water, his kids have never taken a road trip. Lillard himself has made the cross-county trip numerous times. They'll be towing a U-Haul trailer and camping as they cross the country.
Lillard is in a rental apartment right now. His family will be out to visit next month and house hunting will begin in earnest.