Change of plea for Andrew Baird IV
Written by

Lisa Loomis

Published in News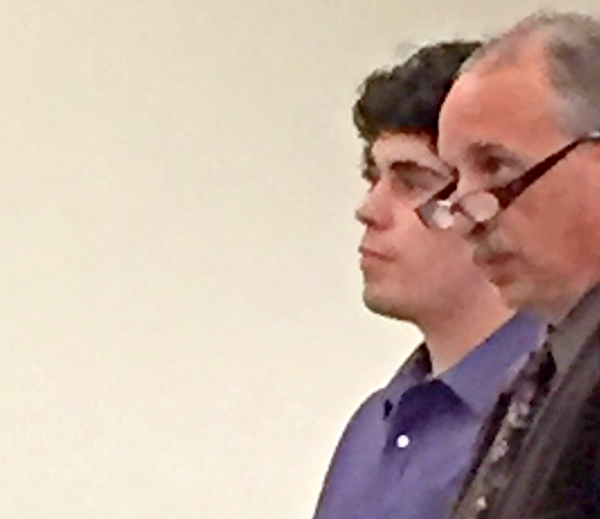 Andrew Baird IV, 21, Waitsfield, pleaded guilty to a charge of felony driving under the influence (DUI) with serious bodily injury resulting as well as two counts of violation of the conditions of his release.
The felony DUI charge could carry a sentence of eight to 16 years in prison and a fine of up to $10,000. Each violation of conditions of release charge could carry a sentence of six months of prison and $1,000 in fines.
Baird was in Washington County Court on Tuesday, October 10, to change his plea from when he was arraigned last fall. The charges are from an October 14, 2016, accident that left Lily Stilwell, 20, of Fayston, paralyzed from the waist down.
In court this week, Baird answered, "Yes, Your Honor" to each question from Judge H.E. VanBenthuysen about whether he understood what it meant to change his plea from not guilty to guilty. State prosecutor Scott Williams explained that in exchange for the change of plea, the state had dropped the other charges from the October 14 incident, leaving the scene of the accident and reckless endangerment.
VanBenthuysen asked Baird if he understood the facts in his case as the state presented them: namely, that he had driven under the influence and was driving when the accident occurred and that he and two friends moved an obviously injured Stilwell from the car and put her in another car and drove her to a house in Moretown. Baird acknowledged those facts and the facts of the two incidents in which he was found to have violated the conditions of his release after his arraignment by drinking alcohol.
His blood alcohol content (BAC) on the night of the accident was 0.171. The legal limit for drivers is 0.08.
Judge VanBenthuysen asked Baird if he understood that he had a right to three separate jury trials instead of pleading guilty and Baird answered, "Yes, Your Honor."
The judge ultimately accepted the guilty pleas and ordered a presentencing investigation after which (eight weeks) Baird will be sentenced. State's Attorney Williams said that the state will seek incarceration for Baird, noting that the felony DUI charge with serious bodily injury resulting carries an eight- to 16-year prison sentence. The defense, he said, is free to argue for less than the minimum guidelines for the offense.
The other two people who helped Baird move Stilwell from one car to another and to the residence in Moretown were Jeremy Champney, 20, Waitsfield, and Dakota Griswold, 21, Waterbury.
Griswold, Baird and Champney were initially charged with reckless endangerment for failing to call 911 immediately on Stilwell's behalf, despite her pleading. Baird and Champney moved Stilwell by the shoulders and feet into the back seat of Griswold's car and drove her 5 miles to Baird's home in Moretown before calling 911 anywhere from 12 to 40 minutes later, according to different estimates by the defendants.
Stilwell was unresponsive by the time the ambulance arrived and her cervical spine was later found to be broken in several places, according to the police report issued several days after the accident.
Each of the three defendants in the Stilwell case has either violated the terms of their release and/or had new charges brought against them in the last year.
In addition to the charges in the Stilwell case, Champney was arrested for grossly negligent driving along River Road in Middlesex in February and a month before had had his license suspended in Colorado.
On August 22, Judge Pacht sentenced Champney to two years of probation with home confinement of 90 days and 200 hours of community service. He also ordered him to seek treatment for alcohol.
Griswold, 21, of Waterbury, did not appear in Washington County Court Tuesday, September 12, for her pretrial conference in the Stilwell case in which she was charged with reckless endangerment. Griswold faces a new charge of DUI after she was found unresponsive behind the wheel of her car on August 24 in Berlin.
Griswold was picked up by police this August when she was found slumped over and unresponsive in her vehicle at midday on VT Route 62 in Berlin. Emergency medical personnel gave her an opiate antidote and took her to Central Vermont Medical Center for further treatment, according to the police report. Police also reported finding hypodermic needles in her car, after Griswold gave them permission to search. Griswold was issued a citation for DUI but declined a blood test. Griswold's hearing was postponed and she is now scheduled back in court on November 7 and 8 for pretrial conferences and a jury drawing.

Stilwell, in the meantime, has re-attained a driver's license for her handicap van, has started working in early childhood education at Waitsfield Elementary School and is starting college classes online. She is continuing physical therapy at Project Walk in New Hampshire and is receiving acupuncture at Three Moons Wellness in Waitsfield.