Hemp – a new agricultural venture in The Valley
Written by

Lisa Loomis

Published in News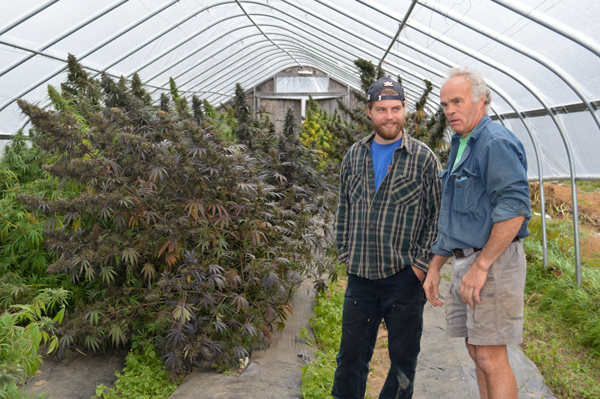 Many drivers who passed Hadley Gaylord's organic farm on Route 100 in Waitsfield did a double take late this summer and earlier this fall. What they were seeing was not what they thought they were seeing.
Gaylord and his partners planted 1,000 hemp seedlings in July and as the plants grew, the striking similarity between hemp and marijuana was obvious. Hemp does not have the psychotropic effect of the THC that is in marijuana, but it does have medical uses.
There are currently almost 100 farmers growing hemp in Vermont. Hemp oils are used for a variety of medicinal purposes (including fighting nausea from chemotherapy) and the crop has become another way to use farmland to create a value-added agricultural process.
Gaylord said that he was approached about the idea by one of his CSA customers, who later had his son, Josh Conrad, contact him in the spring. Conrad had worked in agriculture and regenerative agriculture in northern California with Eligio Salvatore, the third partner in Gaylord's hemp venture.
PLANTED IN JULY
The third week of July the trio planted 1,000 seeds and after they germinated they were transplanted into one of Gaylord's greenhouses and onto about an acre of farmland on the west side of Route 100.
The hemp plants grew 5 to 7 feet tall and many were as wide around the base as a large Christmas tree. The stalks with buds are large, many up to a foot long. The trio has five varieties of hemp and has harvested it and dried it and manicured it into bags from which they will harvest the resins from the flower.
The plants thrived on Gaylord's organic soil, a testament to the health of his farm, Salvatore said. The Christmas tree–size plants were planted in the third week of July.
"I was getting anxious about getting started after we made the plan for planting hemp," Gaylord said.
"Coming from northern California, I was afraid they misunderstood our short growing season in Vermont!" he added.
Using a commercially certified production kitchen (such as the Mad River Food Hub or a similar facility) they will create products containing CBD oils, which are one of the nonpsychotropic compounds found in hemp. The psychotropic effect of marijuana comes from THC compounds in that plant. To be grown legally in Vermont, hemp plants must contain less than 0.3 percent THC. Marijuana has THC levels of 25 percent and higher.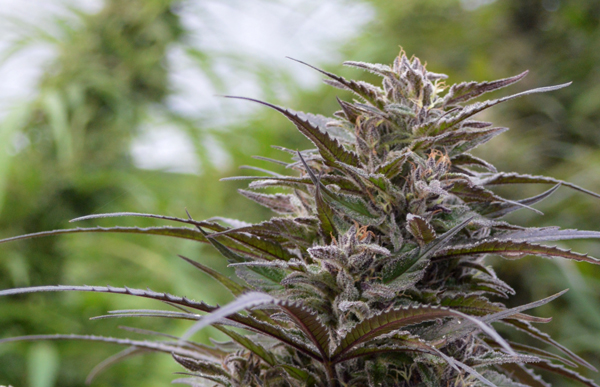 Both THC and CBD are cannabinoids of which there are over 100 recognized in marijuana and hemp. Europe recognizes well over 100 cannabinoids, Salvatore said. Some 10 cannabinoids are being extensively studied for their medicinal benefits and many states (including Vermont) have legalized both marijuana and hemp for medicinal uses.
Gaylord said that depending on how their initial production goes, the financial return on the plants could range from $200 to $600 per pound of flowers, depending on what the flowers are processed for and the percentage of CBD by volume, Salvatore explained.
Some of the recognized uses for CBD include insomnia, fighting nausea and topical uses such as treating dermatitis, Salvatore said.
"In many places, it is being used as an alternative medication for treating ADHD and for healing PTSD. There are many documented medical effects of CBD oil as well as marijuana. I don't want to throw THC under the bus because it also makes you high," he pointed out.
The hemp plants at the Gaylord farm didn't just invite second glances this year. Gaylord also had a problem with people stealing the plants mistaking them for marijuana.
"You can't fix stupid," he said, about thieves stealing hemp to smoke attempting to get high.
"It's all about education," he said.