Zero Energy Modular home comes to town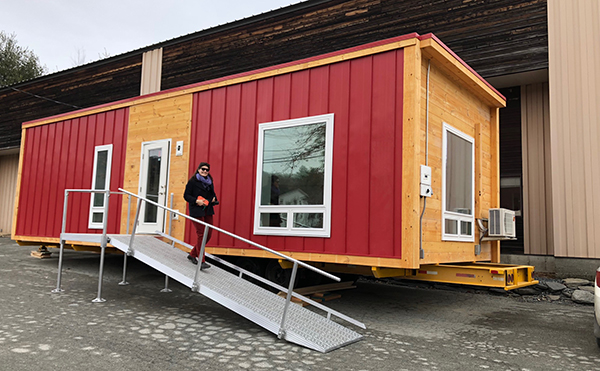 The Mad River Valley looks to see some greener dwellings this spring as Efficiency Vermont has developed a partnership with Downstreet and is conducting a trial placement of a Zero Energy Modular (ZEM) home in Verd Mont Mobile Home Park in Waitsfield from April until June. The home in The Valley is open for the public to check out at open houses Thursdays from 2 to 6 p.m. and Saturdays from 9 a.m. to 1 p.m.
Efficiency Vermont is showcasing these homes around the state for the next two years to create a general awareness of the zero energy homes; Verd Mont was on its list. The showings of the home in the park have created "a lot of interest," said Phoebe Howe, Efficiency Vermont program manager. "We are getting lots of interest from a wide variety of community members. People are drawn in by the zero energy features and affordability, and then oftentimes leave even more interested by the durability, health and comfort benefits."
The goals are to engage with mobile home owners in the areas where Efficiency Vermont travels in order for homeowners to assess their own housing situation and provide more options. Efficiency VT offers assistance to mobile home owners by showing them an alternative; they also visit and determine what options or assistance owners are eligible for if they decide to switch over.
"We picked Waitsfield as the first location of the ZEM On Tour initiative with the traveling model home for a few reasons. We hadn't yet collaborated with Downstreet and I wanted to prioritize that partnership; and I knew that the strong community spirit of the Mad River Valley would bolster our outreach and presence in the area and this has definitely been the case!"
SOLAR AND BATTERY
The energy-efficient home has solar and battery storage as well as renowned ventilation. Compared to a regular mobile home, the ZEM homes have 10-inch-thick walls and triple-paned windows. With the home's interior finishes, homeowners can also expect certified appliances. Howe states, "Financially, homeowners benefit from no energy expenses (heating, lights, appliances) in a zero energy home and low maintenance costs with durable materials and construction techniques. Healthwise, homeowners benefit from excellent levels of indoor air quality with healthy materials, no carpeting, and a fresh-air ventilation system that also eliminates any risk of mold/mildew."
"We work with all demographics," added Howe. "We also promote ZEM as a great option for affordable rental housing for very low-income Vermonters. The total cost of the ZEM home is higher, at $150,000 to $200,000 (and $100,000 to $150,000 after subsidies and incentives) compared to $75,000 to $100,000 for a new mobile home, but most people are looking at their finances month to month so that first scenario is more relevant. Another piece is the long-term value of the home. ZEM homes will hold their value over time due to the durability of materials and construction, whereas mobile homes often depreciate in value."
Designs on ZEM homes can range in design and can be customizable. They range in size from approximately 560 to 980 square feet. Efficiency Vermont offers different financing options that showcase low-interest loans and no initial down payments.
According to the Efficiency Vermont website (www.efficiencyvermont.com), when people order a new Zero Energy Modular home, their old mobile home will be removed and recycled. When the new home is delivered, it's ready to move into that same week.