Peck arrested for Harwood threat, remains hospitalized
Written by

Lisa Loomis

Published in News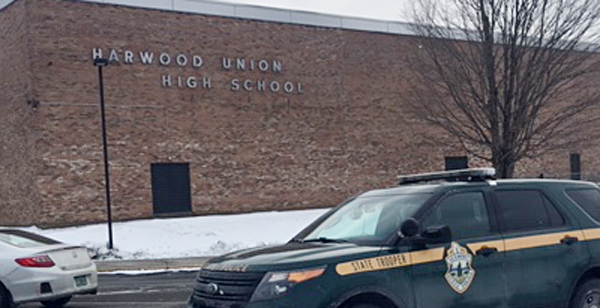 Dick Peck, 51, Moretown, remains hospitalized after his arrest on December 5 for allegedly writing a threatening message with liquid soap on a bathroom mirror at Harwood Union where he works.
He is alleged to have written "I will kill you all" on the bathroom mirror and then reported the threat to school officials himself on December 4.
He failed to show up in court for his December 6 arraignment and Washington County Deputy State's Attorney Traci Leibowitz told Judge Mary Morrissey that Peck was hospitalized and would not attend the hearing. He is charged with disorderly conduct and causing false public alarm. Peck has no criminal record and is a volunteer firefighter in Moretown.
Subsequent to the arraignment, a $2,500 warrant was issued for his arrest, which will go into effect when he is discharged from the hospital. On December 8, a request for an extreme risk protection order was granted, which prevents Peck's access to any of his firearms for six months. The protection order is part of the gun control law passed by the Vermont Legislature last spring.
After the threat was reported, the school district alerted parents and community members via email on December 4. School opened as usual on December 5 with state police present. On December 5, school and district administrators with Vermont State Police conducted dozens of interviews and reviewed video footage from a camera pointed at the bathroom door.
According to a police afidavit Peck gave conflicting information about his timing and whereabouts leading up to reporting the threat to state police trooper James Vooris when he was interviewed on December 5. Later in that interview, Peck allegedly confessed to writing the message or at least part of it.
"Peck then advised that when he located the writing on the mirror it was spelled incorrectly so he 'straightened it out,'" Vooris wrote, noting that Peck said he used his fingers to correct the spelling of the words.
"During the conversation, he also advised that he added additional words to the writing on the mirror but was adamant that the word 'kill' was already present when he entered the bathroom," Vooris wrote.
Peck was interviewed again later that day, and when asked why he did it he told the police that if he had only reported the word "kill" on the bathroom mirror it would not have been taken seriously.