Donald Joel Foster
Written by

Submitted by family

Published in Obituaries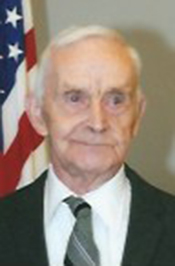 Donald Joel Foster, 96, passed away at Woodridge Nursing Home in Berlin on Wednesday, September 6, 2017. Born in Moretown on September 2, 1921, he was the son of the late Allen and Gladys (Chapin) Foster. On April 28, 1974, he married the former Shirley H. (Kenyon) Gabaree in Moretown.
Don grew up in Moretown, attended Moretown Common School and worked on his family's dairy farm. On November 9, 1942, Don joined the war effort as a member of the U.S. Army and served in the European Theater of Operations that included the Battle of the Bulge. As a member of the 95th Infantry Division, 377 Regiment under General George S. Patton, his division earned the nickname "Iron Men of the Metz" for fighting back fierce German counterattacks in northeast France. Following his discharge on November 23, 1945, Don returned to the family dairy farm in Moretown.
Life changed in many wonderful ways when he met and married Shirley. Together they operated a community care home and managed an apartment building until 2012. Don worked a number of jobs in the Waterbury-Moretown area that included mail delivery service for WDEV-Radio Vermont as well as being a longtime newspaper home delivery person, but he was most proud of the community service and volunteerism he and Shirley gave. For over 20 years they worked as a team to deliver Meals On Wheels to folks from the Waterbury Area Senior Center. They received the Governor's Award for Outstanding Volunteer Community Service and the Senior Center now honors them by presenting the annual Don and Shirley Foster Volunteer of the Year Award.
Don was a former member of the Harry N. Cutting American Legion Post 59 and the Senior Center, both of Waterbury. In his leisure time, he enjoyed reading, gardening (both flower and vegetable), following and talking politics, the outdoors and he was an avid history buff. A quiet and humble man, Don held a deep and strong sense of faith and a great Biblical knowledge.
Don is loved and mourned by his stepchildren, George Gabaree Sr. of Waterbury, Bill Gabaree and his wife Cindy of Morrisville, Joe Gabaree and his wife Denise of Moretown, Kathy Burnor of East Hardwick, Sally Groff and her husband Ed of North Hero, and Lucille Emmons and her husband Conrad of Waterbury Center; 18 step-grandchildren, 26 step-great-grandchildren, two step-great-great-grandchildren; four nieces, Laurie Spaulding and her husband Don of Waitsfield, Linda Hendrickson and her husband Arthur of Moretown, Kristal Foster of Moretown, and Kathleen Foster and her husband Rob Roberts of Moretown; a special cousin, Judith Brodecki and her husband Henry of Wilbraham, MA; as well as extended family. Don was predeceased by two sisters, Irma Farnham and Mavis Foster; and a brother, Maurice Foster.
Funeral services will be held from the Moretown United Methodist Church on Wednesday, September 13, 2017, at 10 a.m. with interment to follow in the Mountain View Cemetery, Moretown. Friends may call at Perkins-Parker Funeral Home in Waterbury on Tuesday, September 12, 2017, from 6 to 8 p.m. For those who wish, memorial gifts in lieu of flowers would be appreciated to the Waterbury Area Senior Center, 14 Stowe Street, Waterbury, VT 05676. To send online condolences please visit www.perkinsparker.com.