Louis Anderson
Written by

Submitted by family

Published in Obituaries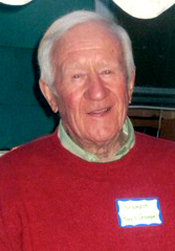 Louis Anderson, a longtime resident of the Mad River Valley, passed away peacefully under hospice care with family by his side in Worcester, MA, on October 11, 2017, at the age of 91. Born in Worcester, MA, Lou enlisted in the U.S. Navy and served in the Pacific Theater during World War II. After the war, Lou married Susan Oricco, before being called upon again to serve his country in the Korean War. After his discharge from the Navy, Lou attended the New England School of Accounting, a career he worked in well into his 80s.
From his time in the Navy, Lou developed a love for the sea and sailing, but the Mad River Valley and its beautiful mountains was a special place for him. He was drawn to Sugarbush in the early 1960s to ski and had a dream of one day living and working in The Valley. In 1969, Lou and Sue moved from Holden, MA, to Warren, where they first owned and ran the Anderson's Drift Inn on Sugarbush Access Road. Lou served for a number of years on the Warren Select Board and was a member of the Freemasons of Vermont, Mad River Lodge #77.
Lou built up a successful accounting practice in The Valley, sold the Drift Inn, and moved to Harris Hill in Fayston. Working out of his office above the garage, he was much valued by many small business and Valley residents as a public and tax accountant. Like many Valley residents, Lou was a great athlete, who played tennis and hiked the woods near his home, but his true passion was skiing. He taught his sons and grandchildren to ski as soon as they could walk and was most happy skiing with his family. There wasn't a trail on Sugarbush he had not mastered and skied with his grandchildren well into his 80s.
Retiring at 84, Lou lovingly cared for the extensive grounds he had cleared with a view of the mountains he loved. When grounds keeping became too much of a burden, Lou and Sue moved to an apartment on Main Street in Waitsfield before taking residency at an independent living home in Hopkinton, MA. He is survived by his beloved wife of 70 years, Susan (Oricco), now of Hopkinton, MA; his sons, John Anderson and his wife Kirsten Anderson of New York City and David Anderson and his wife Sally Yozell of Washington, DC, and Warren; and his two grandchildren, Nathan Anderson of Boston, MA, and Victoria Anderson of New York City.
Lou was a true patriot, a gentleman, and will be remembered for his beautiful blue eyes, mischievous smile, his love for jazz and a nightly Manhattan cocktail. He was a friend to many and a lifelong partner to Susan.
A funeral mass will be held at Our Lady of the Snows on Friday, October 27, at 1 p.m. followed by a burial service at the Fayston cemetery. In lieu of flowers the family requests that donations be made to the Mad River Valley Ambulance Service or a charity of your choice.