Beverly A. Brothers
Written by

Submitted by family

Published in Obituaries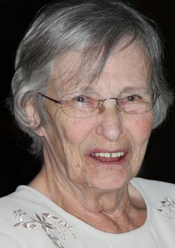 Beverly A. Brothers, 82, passed away in the comfort of her home and family on Tuesday evening, October 10, 2017. Born in South Fayston on April 21, 1935, she was the daughter of the late Francis and Ruth (Merchant) Moulton. On January 10, 1954, she married Kenneth P. Brothers in Waitsfield. Ken predeceased Beverly on December 3, 2013.
Beverly was a 1953 graduate of Waitsfield High School and following her marriage to Ken, traveled with him throughout his military career and was busy raising her growing family. Returning to the Mad River Valley in 1971, she and Ken owned and operated Ken and Bev's Gas and Grocery on Route 17 in Fayston until 1976. They later owned and operated Larry's Redemption Center in Fayston for several years. In addition to their joint entrepreneurial endeavors, Beverly owned and operated The Knitting Shed in Fayston for many years. She also was a volunteer driver for Meals On Wheels in The Valley and was a bus driver for Harwood Union High School from which she retired in 1989.
In her leisure time, Beverly loved tracing her family's genealogy, enjoyed fishing for years and the challenge of a good jigsaw puzzle. Beverly was a member of the Moretown Congregation of Jehovah's Witnesses and was a former member of the Fayston Historical Society.
Beverly is loved and mourned by her children, Linda Moulton and her partner Carl Dupont of Warren, Ruth Brothers and her partner Jeff Halpin of Fayston, Larry Brothers and his wife Janet of Royalton, and Stephen Brothers of Fayston; her son-in-law, Bill Belanger of Roxbury; 16 grandchildren, David, Sharon, Matthew, Jaime, Connie, Amy, Jennifer, Adam, Todd, Scott, Shiloh, Jason, Chris, Stacy, Jessica and Benjamin; 18 great-grandchildren, Briar, Kelci, Riley, Caden, Lexi, Christian, Cooper, Liam, Tegan, Jonathan, Cailin, Addison, Heaven, Connor, Cody, Theia, Gemma and Linkin; a great-great-grandson, Christopher; a brother, Robert Moulton and his wife Faith of Williamstown; two brothers-in-law, Edward Reilly of Melbourne, FL, and Robert Badore of Waitsfield; as well as the significant others of the grandchildren and great-grandchildren; nieces, nephews and extended family. Beverly was predeceased by her daughter, Sue Belanger, and two sisters, Barbara Reilly and Rita Badore.
The family would like to extend their deep appreciation for the compassion, support and care given to Beverly and her family by CVHHH, particularly her nurse David Caterino and the entire hospice team.
Graveside services will be held from South Fayston Cemetery on October 26, 2017, at 2 p.m. with a reception to follow at the Fayston Town Hall. For those who wish, memorial gifts in lieu of flowers would be appreciated to Central Vermont Home Health and Hospice, 600 Granger Road, Barre VT 05641 (www.cvhhh.org). Assisting the family is Perkins-Parker Funeral Home and Cremation Service in Waterbury. To send online condolences visit www.perkinsparker.com.