Reverend Margaret (Peggy) Gunness
Written by

Submitted by family

Published in Obituaries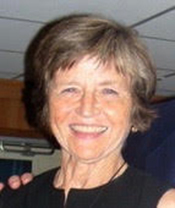 The Reverend Margaret Brown Gunness ("Peggy") died peacefully in her sleep on October 9, 2017, after struggling for several years with declining cognitive health. At the time of her death, Peggy and her husband, Peter, lived at Newbury Court in Concord, MA, where Peggy was a resident of The Gardens. Her friends and family knew her for the joyful kindness with which she embraced life and for the enduring presence of her lovely smile. Parishioners knew her for the warmth and generosity of her pastoral care and for her moving and insightful sermons.
She always expressed an adventurous spirit. As a young girl, she climbed pecan trees around her home in Baton Rouge, LA. During her student years, she ventured north to attend high school (DC) and college (CT). As a young single woman in 1959-1960, she explored Europe, first in Caen, Normandy, and then upon an impulse in the Crimea for one summer. In 1984, to her husband's unease, she stepped across protective barriers to look over the cliff's edge at Victoria Falls in Zimbabwe. She was forever curious and in love with the gift of life. As a mother, she sought to instill this same love in her three children.
The daughter of James Theron and Margaret Holmes Brown of Baton Rouge, LA, Peggy is survived by her husband of 55 years, Peter Kay Gunness, her three children and their families: Per Gunness and his wife Barb of Emigrant, MT; Larson Gunness, his wife Liana Cassar and their two children, of Barrington, RI; Kate Williams, her husband Rob and their two children, of Waitsfield, VT; and her "adopted" son, Scott Collins, his wife Shaela and their two children, of Milton, MA. She is also survived by her sister and brother-in-law, Beverly and Dudley Coates of Baton Rouge, as well as her cousin, the Reverend James Holmes and his partner Timothy Sabin of Washington, DC. Sophie, the latest of five beloved cairn terriers, recently moved to Montana to live out her life as a ranch dog.
Peggy was born in Shreveport, LA, and grew up in Baton Rouge. In 1953 she moved to Washington, DC, to attend the National Cathedral School. Peggy received a BA from Connecticut College for Women in 1959. From 1959 to 1960 she studied under a Fulbright Scholarship at the Universite de Caen in Normandy, France. Following her Fulbright program in 1960, she stayed overseas and completed a summer program in Gurzuf, Russia. In 1961 she met her husband, Peter, in Cambridge, MA, when he was working in the financial aid and admissions office at Harvard. They married in 1962 and had their children in 1964, 1965 and 1966. Peggy and Peter raised their children in Belmont, MA (Wellington Cottage), and were active members of the Belmont, Cambridge and BB&N communities.
Following a decade of focusing her adventurous energy on raising her children, Peggy returned to her studies and in 1981 received her master's in divinity from the Episcopal Divinity School in Cambridge, MA. During her General Ordination Exams, she moved into the monastery, Society of St. John the Evangelist in Cambridge, where the brothers provided her with quiet support while husband Peter tried his hand at tending to three teenage children back home in Belmont.
Once ordained, she served as assistant priest and interim rector at Christ Church Cambridge. After this, she became the first woman assistant priest on staff at Trinity Church in Copley Square, Boston. When she left Trinity Church in 1990, she worked for one year at St. Mary's in Dorchester before moving with Peter to Ridgewood, NJ, to become the rector of Christ Church Ridgewood. In 1998, Peggy and Peter moved to Memphis, TN, where she became the vicar of Calvary Church. Her active ministry ended with her time in Memphis, following a minor stroke after a heart-valve replacement.
In class notes for her 50th reunion at Connecticut College, she wrote about her subsequent struggles with memory. She spoke of working on an autobiography, writing: "The exercise has particular significance for me because I had a small stroke in 2000, following surgery, which has damaged my ability to hold on to new information or new experiences that would provide the raw material for still more memories to be created. So, I savor the old memories, hold on to the new as well as I can, and rejoice in the opportunities and adventures each day provides. In all, I consider myself to have been richly and deeply blessed."
In lieu of flowers, please make a donation to The Gardens Staff Appreciation Committee at Newbury Court (100 Newbury Court, Concord, MA 01742).