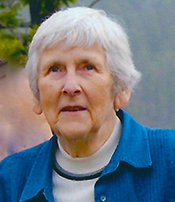 Ella M. Maynard, 86, passed away in the comfort of her home and family on Sunday evening, February 4, 2018. Born in Montpelier on April 11, 1931, she was the daughter of the late Ira and Eva (Davis) Morse. On December 4, 1948, she married Everett C. Maynard in Moretown.
Ella was a 1948 graduate of Montpelier High School. Following her marriage to Everett, Ella was a partner with her husband in running the Bis-May family farm in Moretown and was busy and happy raising their family.
Energetic and a can-doer, Ella was involved in civic, church and agricultural-related activities throughout her life. She served the town of Moretown for many years as a lister, justice of the peace and was a member of the Board of Civil Authority. A longtime member of Moretown United Methodist Church and a woman of great faith, Ella served as treasurer for many years, was a member of the United Methodist Women, taught Sunday school, and worked on the church Christmas Bazaar for decades. In addition, she was the representative to the Troy Annual Conference, more recently the New England Annual Conference of the Methodist Church as well as worked on virtually every other activity the church was involved in. Ella was a member of the Farm Bureau where she served as secretary and was a member of the National Holstein Association where she was integral in helping plan the 1984 Convention in Hartford, CT. She and Everett started and organized the 4-H Club in Moretown that grew to include the other Mad River Valley towns. 4-H was near and dear to her since she met Everett through 4-H.
Ella's family lovingly remembers her for the joy she found in spending time with her family and grandchildren, cooking, making pies and raised doughnuts and just being together.
Ella is loved and mourned by her husband of 69 years, Everett Maynard of Moretown; their children, Jean Glezen of Whitney Point, NY, Donald Maynard and his wife Katherine of South Burlington, Gordon Maynard and his wife Jeannine of Rathdrum, ID, and Kendall Maynard and his wife Barbara of Moretown; 11 grandchildren, Cheryl Glezen Donnelly, David Glezen, Wendy Glezen Morgan, Amy Glezen, Israel Maynard, Esther Maynard George, Kai Maynard, Nathanael Maynard, Zebulon Maynard, Rosanna Maynard Woodard, and Myranda Maynard; nine great-grandchildren; a sister, Harriet Gallagher of Calais; a brother, Wayne Morse of Montpelier; as well as nieces, nephews and extended family. Ella was predeceased by a brother, George Morse.
A service celebrating the life of Ella Maynard will be held from Moretown United Methodist Church on March 10, 2018, at 1 p.m. Inurnment will take place this spring in Mountain View Cemetery in Moretown. The family requests that in lieu of flowers, memorial gifts would be appreciated to Moretown United Methodist Church, P.O. Box 516, Moretown, VT 05660, or to Central Vermont Home Health and Hospice, 600 Granger Road, Barre, VT 05641 (www.cvhhh.org). Assisting the family is Perkins-Parker Funeral Home and Cremation Service in Waterbury. To send online condolences please visit www.perkinsparker.com.