December 19, 1985 – February 12, 2018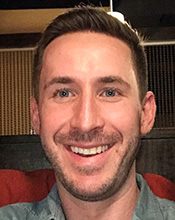 Jack Buchanan Tabor – beloved son, brother, husband and friend – died unexpectedly on February 12, 2018. He was 32 years old. After years of struggling with depression and substance use, he took his own life in his home in New York City.
Jack was born in Brattleboro on December 19, 1985, which made him the only "real Vermonter" in his family. As a child, he was blond, angelic and, even back then, a sunny little fellow who lifted the spirits of all those around him. He was also mischievous. Jack earned the nickname "Mr. Molecule" because he was constantly in motion and bumping the borders of his world. During those early years, Jack proved himself to be a precocious reader, cross-country skier, downhiller and ice skater.
In the Mad River Valley, where Jack lived for much of his childhood and teenage years, he attended Waitsfield Elementary and Harwood Union High School. He flourished academically, excelled in hockey, and served as president of the Student Council in sixth grade. Certain extraordinary people help us grow in special ways and leave lasting impressions by doing so. For Jack, then-Principal Carol Hosford and (still) fifth- and sixth-grade teacher Mr. Lee van Dyne, were such people. Even after he moved on to Harwood Union High School and beyond, Jack happily recalled these formative experiences with both Carol and his beloved "Mr. Van."
Having inherited a lovely natural singing voice from his mother, Jack began studying voice with the acclaimed opera coloratura and vocal coach Dee Tigue. As a sophomore, Jack landed the lead role in Harwood's presentation of "Joseph and the Amazing Technicolor Dreamcoat." During his last two years, he studied singing under the noted voice teacher Bill Reade and was also accepted for study at New York City's Circle in the Square Theater School, whose alumnae include Lady Gaga, Philip Seymour Hoffman and Kevin Bacon. And, during his years at Harwood, he was fortunate to study with two extraordinary music teachers, Diane Phillips and Chris Rivers, and to perform in musicals under the stellar direction of Peter Boynton, veteran of Broadway, broadcast and film. A better foundation for one who dreamed of performing is hard to imagine.
Graduating in 2004, Jack gained coveted admission, with a scholarship, to the Berklee College of Music in Boston. There he joined some of the most talented young musicians from this country and around the world. Ultimately, Jack found himself missing Vermont and Vermonters and transferred to UVM, where he graduated in 2010 with a degree in musical performance. With degree in hand and many musical performances under his belt, Jack departed for New York City to launch his career.
Jack loved traveling, meeting new people, reveling with his friends and, above all else, singing. He had the soul of a musician – or, perhaps more broadly, of a born performer. He was a talented vocalist, songwriter, mimic, comedian and jokester and was gifted with an easy charm and grace that could light up any room or stage. Jack was also one who truly never met a stranger. He was kind and quick-witted and always open to the world. He rarely judged and never held a grudge. He made friends in every social situation and level of life. "Sunny," "buoyant," "light-hearted," "laughing," "bright smile," and "always happy" are how people experienced Jack in life and are now remembering him in death.
Despite his funny, outgoing personality, Jack also battled inner demons. He struggled with depression, anxiety, alcohol and drug use – at times making positive and immensely courageous strides in these battles. But, like so many who suffer, Jack kept much of his pain hidden from those closest to him. We hope that candor will encourage others to seek help, rather than suffer in silence, in their own times of distress.
Jack is survived by his father, James M. Tabor and his partner Kathleen Cosentino of Waitsfield, VT; his brother, Damon Tabor and his fiancee Emma Pildes of New York City; his wife, Yumi of New York City; his godmother, Janet Langdon of Putney, VT; his "other mother," Wallis Wheeler of Richmond, VA.; his aunt Sheila Bannister of Northfield, VT; his uncle Edward Burke and aunt Anna Burke and cousins Kristin, Suzanne, and Edward III, all of Norwood, MA; his uncle James Burke and aunt Delvonne Burke of Beaumont, TX; and his aunt Sandra and uncle Edward MacGuire of Cataumet, MA.
A scholarship fund in Jack's name, to help others pursue careers in music, has been established at Harwood Union High School of Duxbury, VT. In lieu of flowers, please consider contributing to the fund, noting "Jack Tabor Scholarship Fund" in the memo lines of checks: Jack Tabor Musical Scholarship Fund, Harwood Unified Union School District, c/o Susan Neill, 340 Mad River Park, Suite 7, Waitsfield, VT 05673.
A memorial service and celebration of life will be held in Waitsfield at the Inn at Round Barn Farm on Sunday, March 11, 2018, beginning at 1 p.m.