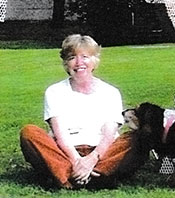 Mireille Treuil Clapp, born in Neuilly-sur-Seine, France, in 1937, died in the arms of her family March 7, 2018, at her home in Boston, MA, after a battle with cancer of several years. Her engagement with Vermont began on her honeymoon in 1961 on a family-owned property in Roxbury followed by a joint purchase in 1963 of a parcel of land at the top of the Roxbury Gap in Warren with David and Mary Jane Luce. As a foursome they built an entirely handcrafted log cabin from the trees and stones on the land which exists to this day. After this property was divided between the families, she designed a new house in 2003 where she and her husband have lived about half of the year annually and where she created extensive rock gardens and a private sculpture park. This is where she began to feel the center of her being was rooted and where she could always return for fresh inspiration. She will be buried in the East Warren Cemetery in view of that house.
She was an internationally known sculptor and scientist, having first trained as a scientist at McGill University, Ottawa University, and MIT followed by a career as a professor of materials science and mechanical engineering at the University of Massachusetts, Amherst, while simultaneously raising three children with her husband. She invented several new superconducting alloys and held a number of important patents. She became the first woman to receive tenure in the entire history of the UMass School of Engineering and paved the way successfully for subsequent female candidates via her concerned mentoring. Following her retirement as a full professor from UMass in 1995 after 16 years of service there, she began a second career as a sculptor of abstract steel standing works and later evolved toward mixed media wall sculptures. She used a number of her standing steel pieces to form an extensive sculpture park around the Roxbury Gap house which she jokingly referred to as "Storm Queen." Her work was frequently exhibited at the Round Barn annual Art Show and one piece, "WindSong," is part of the permanent outdoor display there. Sculptures of hers may be found in private collections in over 10 foreign countries ranging from China to Brazil to Switzerland as well as in the permanent collections of MIT, St. Botolph Club of Boston, Sun Valley Lodge of Idaho, Little America Hotel of Flagstaff, Arizona, and INSA of Lyon, France. The L'Attitude Gallery of Boston shows and sells her work.
Mireille was also an avid tennis player and was feared widely for the deftness of her drop shot. Only the twinkle in her eye as she delivered it could warn her opponent of what was coming.
She is survived by Philip, her husband of 56 years; her three children, Andre, Lisanne and Michelle; and five grandchildren, Maddie, Mason, Ben, Zoe and Phoebe.
Donations in her memory will be very much appreciated at the Koch Institute for Integrative Cancer Research at MIT (website: ki.mit.edu).