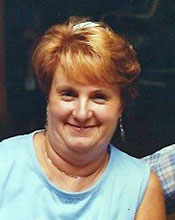 Rachel Irene Munn, 70, passed away on Thursday, August 16, 2018, in the comfort of her home and family following a valiant battle with cancer. Born in Burlington on August 26, 1947, she was the daughter of the late Harry H. and Iola W. (Nelson) Stanley. For 31 years, Rachel and Ray enjoyed a wonderful journey together and were married on June 29, 2011, in Fayston.
Rachel was a 1965 graduate of Waterbury High School. For the next 43 years she was employed by the state of Vermont as a legal secretary.
Rachel had a variety of interests that included bird watching, yard sales and bazaars, racing, camping, traveling and gardening. She loved spending time with her family, particularly her grandchildren, and enjoyed the company of her canine pals, Rebel and Rosie. She was also quite a wine connoisseur.
Rachel is loved and mourned by her husband, Raymond Munn of Moretown; her children, Lori Messier and her partner Dennis of Granville, Angela Wells and her husband Scott of Waterbury Center, Roger Champney and his wife Lisa of Waterbury, and Michael Munn of TN; her grandchildren, Jordan Champney and his wife Annie, Jeremy Champney, Kaylee Champney, Clayton Wells, Jacob Wells and Briana Messier; a great-granddaughter, Nora Champney; her sister-in-law, Nancy Stanley; brother-in-law, Howard Munn and his wife Liz; nieces and nephews, Susan Perry and her husband Paul, Cheryl Collins, Steven Corey, Thomas Corey and his wife Sonny and family, Melissa Donald and family, James Stanley and his wife Sandra and family, David Munn and his wife Chasity and family, and Ann Layne and her husband Tony and family; as well as her special friends, Buffy Nelson, Rose Aronson, Matthew Viens and Patricia Blaisdell. Rachel was predeceased by a sister, Joanne Corey, and a brother, Thurman "Bucky" Stanley.
A celebration of Rachel's life will be held from her home, 981 Moretown Common Road, on September 8, 2018, from 1 to 5 p.m. The family requests that flowers be omitted; rather memorial gifts would be appreciated to the Mad River Valley Ambulance Service, P.O. Box 305, Waitsfield, VT 05673, or to Central Vermont Home Health and Hospice, 600 Granger Road, Barre, VT 05641 (www.cvhhh.org). Assisting the family is Perkins-Parker Funeral Home and Cremation Service in Waterbury. To send online condolences visit www.perkinsparker.com.