Donald J. Fitz Maurice
Written by

Submitted by family

Published in Obituaries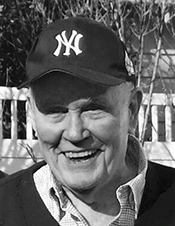 Donald J. Fitz Maurice, 93, of Red Bank, NJ, passed away on October 26, 2018, under hospice care at Brighton Gardens, Middletown, NJ. Don was born and raised in Orange, NJ, and was a graduate of Seton Hall Prep and Seton Hall University. He was a proud U.S. Army Air Corps veteran, serving as a tail gunner in a B-24 Liberator in the European Theater of WWII. Don received the Purple Heart for injuries sustained in October 1944. Don was active in helping other veterans gain VA benefits when he was living in Seabrook Village.
After military service Don met the love of his life, Margaret Thornton. They raised their six children in Livingston and Maplewood, NJ. Don was one of the founding members of the Knights of Columbus in Livingston, NJ. Don served as a New Jersey Assemblymen from 1956 to 1958. Don and Margie moved to Brielle and then Seabrook Village in Tinton Falls. Don moved to Red Bank in 2015 after Margaret's passing. Don was employed in the advertising business before specializing in the printing industry. Don was appointed the U.S. Deputy Public Printer in 1981 for the Reagan administration. After his government service Don established his own marketing/public relations consulting company. Don raised the funds to build the chapel at Seton Hall Prep School in honor of his son Donald Jr.
Don was predeceased by his wife of 65 years, Margaret, in 2014 and their eldest son, Donald Jr. Don is survived by his daughters, Kathryn Fitz Maurice and Patricia Weston, and his sons, Michael, Timothy and Paul (Joyce) Fitz Maurice. "Pop" will be missed by his grandchildren, Kelly and Hobey.
Don and Margie loved Vermont and their many visits to the Mad River Valley where they made many friends and happy memories.
Family and friends attended a visitation on Thursday, November 1, 2018, at Orender Family Home for Funerals, 2643 Old Bridge Road, Manasquan, NJ. A Mass of Christian Burial was held on Friday, November 2, 2018, at St. Catharine Church, 215 Essex Avenue, Spring Lake, NJ. Interment followed at St. Catharine Cemetery, Sea Girt. In lieu of flowers memorial donations may be made to the Seton Hall Prep Donald J Fitz Maurice Jr. Chapel Fund, 120 Northfield Avenue, West Orange, NJ 07052. To send condolences to the family please visit www.orenderfamilyhome.com.