Lorraine T. Hilgers
Written by

Submitted by family

Published in Obituaries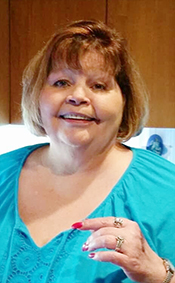 Lorraine T. Hilgers, 59, passed away at Central Vermont Medical Center in Berlin, VT, on Sunday evening, November 11, 2018. Born in San Diego, CA, on November 3, 1959, she was the daughter of the late Louis and Margaret (O'Neill) Picone.
Lorraine graduated in 1977 from Gustine (CA) High School and then went to work at the Pea Soup Andersen Restaurant for several years. Following her marriage, she was busy as a homemaker and raising her three children in addition to working part time at various places as a waitress and bartender. She and her family moved to Minnesota in 1999 after her husband passed away. Lorraine worked at Kmart and Walmart for many years before taking a job as a receptionist at the Floor to Ceiling Home Design Co. She moved to Waitsfield, VT, in 2016 to be closer to family.
In her leisure time she enjoyed a good book and loved spending time with her family, especially her grandchildren. She is lovingly remembered as one of the most generous, giving people. If she had something to give and someone really needed it, she would give it to them.
Lorraine is survived by her children, Stefani Hill of Barre City, VT, Margaret O'Neill and her husband Daric of Spokane, WA, and Rodney Hill and his partner Valerie Hill of Fertile, MN; three grandchildren, Aleena, Arianna and Adrian O'Neill; four sisters, Marie Picone of Waitsfield, VT, Susie Baliff of Salt Lake City, UT, Ginnie Schirmer of Houston, TX, and Marci Coelho of Turlock, CA; a brother, John Picone of Sacramento, CA; as well as nieces, nephews and extended family. Lorraine was predeceased by a brother, Patrick Picone.
Funeral services will be held from Perkins-Parker Funeral Home in Waterbury, VT, on December 1, 2018, at 11 a.m. For those who wish memorial gifts would be appreciated to the Mad River Valley Community Fund, P.O. Box 353, Waitsfield, VT 05673. To send online condolences visit www.perkinsparker.com.