New Track in the Woods proposed for Harwood Union
Written by

Valley Reporter

Published in Schools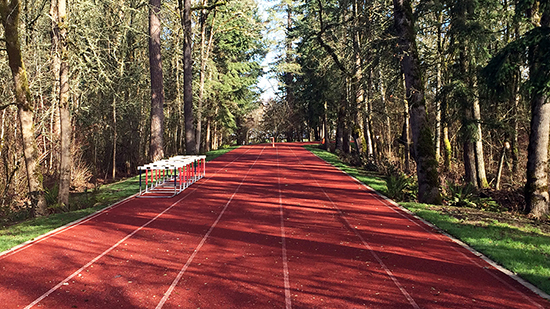 Members of the Harwood Union community are fundraising for a new state-of-the-art eight-lane destination track and field complex at the school, to be known as Track in the Woods.
The group is using IndieGogo to crowdfund the first $40,000 of what they estimate will be a $400,000 project. Organizers want to raise the funds to build a new, environmentally friendly track for use by both the school and the community.
Harwood Union High School's current track is decades old, covered with grass, and in dramatic disrepair, organizers note. This, despite the fact that 10 to 15 percent of the Harwood student body participate in track and field related sports throughout the school year and Harwood's boys' and girls' cross-country and track teams have won a total of 35 Vermont state Division II championships during the past 40 years.
"The Harwood track and field program prides itself on being an all-inclusive program, allowing varying abilities to participate, while still being one of the top teams in Vermont Division II with multiple team state championships as well as numerous individual state titles," explained head coach Taggert Haslam.
"We always ask, how hard are you willing to work for your teammates' success?" he added.
Organizers imagine the Harwood Union Track in the Woods complex as a unique athletic facility in the heart of central Vermont that matches the region's character. They plan to design and build the Track in the Woods in an environmentally friendly way: selectively cutting trees, harvesting on-site wood and stone for on-site facilities and tapping into the local wisdom of foresters, designers, architects, construction engineers, coaches and athletes to create a destination complex that makes the community proud and a site that attracts athletes from all over the state and region.
Here's how organizers explain their funding plan. It's a two-phase plan based on an estimated $320,000 cost for the 400- meter track itself. Eight lanes of 400 meters each equals 3,200 meters; $40,000 buys a single lane and $100 buys one meter of each lane.
In the first phase, they hope to raise $40,000 from the HUHS running community, alumni, friends, families and supporters to support a single lane through an IndieGogo crowdfunding campaign which runs September through December 2015. A donation of $100 buys a meter; all $100 donors or more will have their names affixed on a plaque that will grace the Harwood Track in the Woods entrance.
In phase 2, they hope to raise $280,000 through business sponsorships and foundation partnerships to complete the Track in the Woods funding for the track itself. Businesses and foundations can buy/fund lanes or share the cost of lanes and will be honored on the site in a public way. That phase runs January 2015 through May 2015.
The IndieGogo link, which includes a 90-second video, can be found at www.indiegogo.com. Search for Track in the Woods or use the following direct link: www.indiegogo.com/projects/track-in-the-woods-harwood-union-high-school#/story.
Members of the Friends of the Harwood Track in the Woods outreach group include Jared Cadwell, Fayston; Laura Caffry, Waitsfield; Taggert Haslam, Waterbury; John Kerrigan, Duxbury; Duane Pierson, Moretown; Rob Rosen, Warren; Liz Schlegel, Waterbury; Anneka Williams, Waitsfield; and Rob Williams, Waitsfield.