Harwood Nordic hosts home meet and delivers
Written by

The Valley Reporter

Published in Sports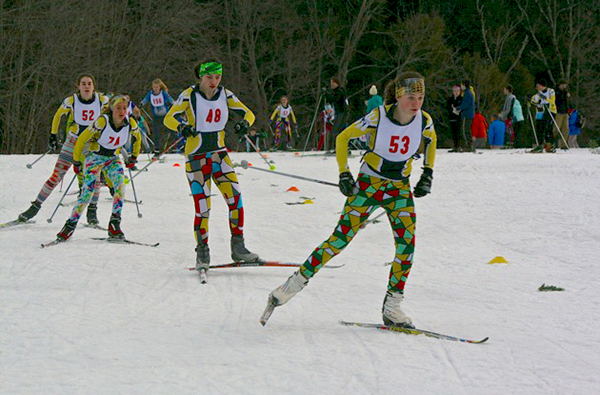 On an unseasonably warm afternoon, Harwood Union's Nordic teams hosted middle and high school teams from U-32, Stowe, Montpelier, Craftsbury, Peoples Academy and Bellows Free Academy - Fairfax in a meet on Tuesday, January 26. Despite the soft, slow snow conditions, the skate-style races featured strong performances by members of all three Harwood teams.
MIDDLE SCHOOL
Under the guidance of coach Andrew McCullough, the middle school team's focus on improving technique has begun to show results. The large girls' squad finished in third place overall and was led by Sydney Kulis and Anna Jamieson in fourth and fifth places, respectively, with Olivia Carleu rounding out the top 10. A tight cluster of Highlander girls dominated the middle of the pack with Camille Sweet in 18th place, followed closely by Kaia Levey (20th), Lili Platt (21st), Lily Carleu (22nd), Ella Holter (23rd), Ayla Oshkello (24th) and Anne Fennelly (26th). Talia Frankel (29th), Emma Caffry (30th) and Lila Montgomery (31st) rounded out the pack.
On the boys' side, the dynamic duo of Theron Williams and Finn Sweet finished third and fourth, respectively, with Owen Labombard not far behind in seventh place. Caleb Kingsbury (17th), Simon Strassberg (19th), Jacob Madden (21st) and Carlton Commisky (22nd) provided solid support, helping drive the team to a second-place finish.
JUNIOR VARSITY
Harwood's small JV team skied valiantly. On the boys' side, Chris Cahalan, brand new to the sport and racing in his first race ever, successfully navigated the tricky course and trickier conditions, finishing last in the field, but with a smile on his face. Acme Wasi had a more difficult race, falling several times due to the rapidly softening snowpack.
The girls' team showed marked determination with a notable first-place team finish. The trio of Carly Wilcox, Holli Shackett and Katie Ferguson finished in seventh through ninth, with Quillyn Peterson not far behind in 12th. Shackett's performance was particularly impressive in the tremendous improvement she's shown since embarking on the sport last season.
VARSITY
The varsity boys' team finished in third place in the seven-team field behind deep squads from U-32 and Stowe. The team was led by junior Noah Eckstein in third place and senior Philip Hekeler in ninth place. Critical to their success, though, was the strong performance by the remaining members of the squad, all tightly packed in the middle of the field of 51 racers. The cluster included Cam Alberghini (19th), Kyle Dash (20th), Tyler Skroski (23rd), Seth Davidson (28th), Colin Fennelly (29th) and Walker Caffry Randall (30th).
With their roster finally fully healthy, the varsity girls' team proved they are a force to be reckoned with, finishing second behind a dominant U-32 team. Though U-32 skiers grabbed the first four finishes, Harwood scored most of the remaining top 10 spots, with junior Madeline Strasser in fifth, sophomore Jordi Kulis in sixth, followed by Isabel Jamieson (eighth), Kyle Marie Hekeler (ninth) and Anneka Williams (10th). Rounding out the squad were strong supporting efforts by Sophia Libby (15th), Erin Magill (17th), Nicole Cutler (23rd) and Chloe Riven and Aenea Mead (29th and 30th, respectively).
Varsity and JV coaches Tom Strasser and Kurt Hekeler were happy to have pulled off the race despite temperatures reaching 45 degrees and even happier with the effort and positive spirit of their racers. "Most important is that everyone is having fun out there and giving it their all," said Strasser. "And today, that's what it was all about."