Sugarbush skiers take top honors
Written by

The Valley Reporter

Published in Sports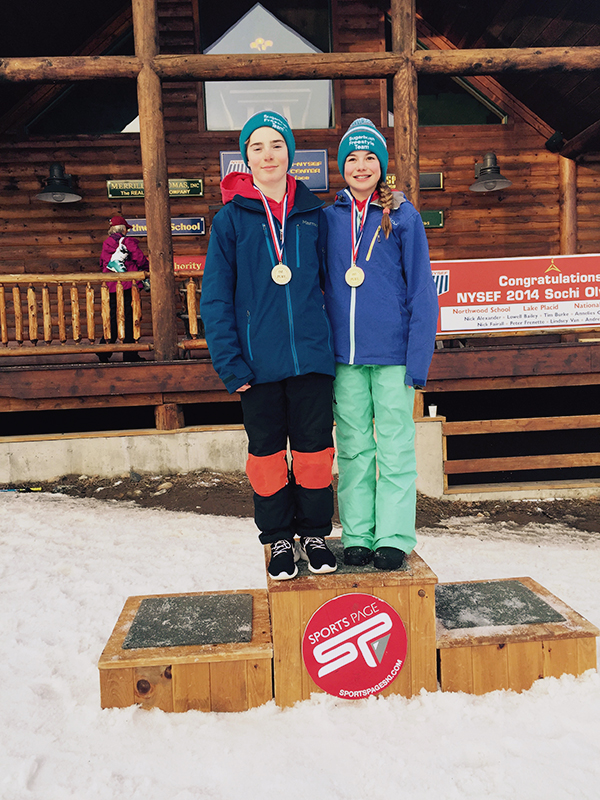 Last weekend, the Eastern Freestyle Central States "B" Mogul and Slopestyle Championship was held at Whiteface Mountain in New York. Two Sugarbush skiers, Cooper Whalen, 13, and Sabrina Cass, 13, each took home top honors for moguls.
Cass is from Cheshire, Connecticut, and Whalen is from Charlotte, Vermont. Each skier skis in The Valley every weekend as part of the Sugarbush Freestyle Ski Team.
The ski resorts that competed this past weekend included Sugarbush, Killington Mountain School, Okemo Mountain School, Stratton Mountain School, Mt. Snow, NYSEF (Whiteface) and Hunter Mountain.
Another Sugarbush skier, Colby Applegate, 14, from N. Andover, Massachusetts, took third place in boys' moguls (despite having a broken thumb from a fall on the icy course during training) and PJ Cass, 12, from Cheshire, Connecticut, came in sixth. Katie Lojko, from Duxbury, Massachusetts, also a member of the Sugarbush Freestyle Team, placed in the girls top 10.
Whalen also took first place in the slopestyle competition on Saturday. PJ Cass came in second and Applegate was fourth.
Their coach is Joey Normandeau. The aforementioned kids will go on to compete at the East Coast Junior Championships on March 11 through 13 at Killington.