GMVS hosted Vermont state championships at Sugarbush
Written by

The Valley Reporter

Published in Sports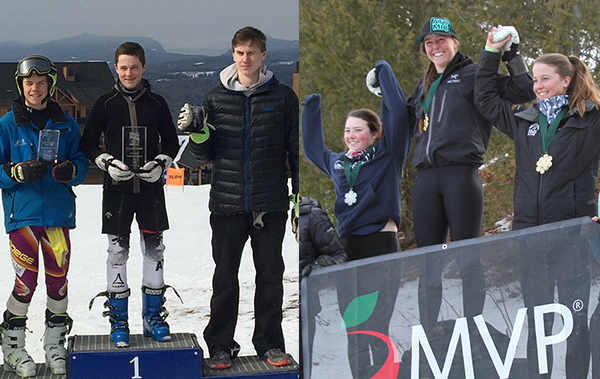 On February 27 and 28, Sugarbush Resort and Green Mountain Valley School (GMVS) hosted the final weekend of the U16 VT state girls' championships at Mt. Ellen. More than 100 racers and their families gathered in the Mad River Valley for two exciting days of racing on the Inverness trail. Despite recent rain and warm temperatures throughout New England, Sugarbush and GMVS staff worked tirelessly to keep the race hill in great condition for Saturday's slalom and Sunday's giant slalom and super G events.
GMVS will send an impressive 16 female athletes (of the 33-racer field) and 11 U16 boys (of the 32-racer field) to the Eastern Championships at Sugarloaf Mountain March 9 through14. The boys' race series took place at Okemo Mountain, Killington Resort and Burke Mountain.
U16 girls to represent GMVS at Eastern Championships are Isabelle Nolan*, Sam McClellan, Nadine Levey, Lindsey Crowell, Avery Vilandrie, Allie Davis, Maggie Beardsley, Anna Duffy, Elese Sommer, Cat Krupka, Lydia Riddell, Ariana Turner, Kitt Urdang, Maggie McCutcheon, Carla Barata and Syd Mason.
*VARA overall third-place and super G champion.
U16 boys to represent GMVS at Eastern Championships are Max Martin*, Johann Meyer, Jackson Jewell, Aedan Chiari, Charlie Lang, Trevor McGlaflin, Riley Curtis, Rob Gillis, Hayden Van Alstine, Casey Segal and Zach Roman.
*VARA overall state champion and GS champion.
After a separate qualification process, GMVS academy will also send 15 racers to the U14 state championship races at Stowe Mountain Resort.
U14 girls to represent GMVS academy at Vermont State Championships are Ariana Welter, Sydney Julius, Georgia Sege, Carly Elsinger, Emma Austin, Bo Rubinstein, Olivia Zubarik, Grace Hubbard and Lindley Friedman.
U14 boys to represent GMVS academy and ski club at Vermont State Championships are Daniel Gillis, Nevin Vilandrie, Charlie Krupka, Gavin Dewey, Morgan Apple and Jonathan Davis.