Harwood Nordic makes its mark at state championships
Written by

The Valley Reporter

Published in Sports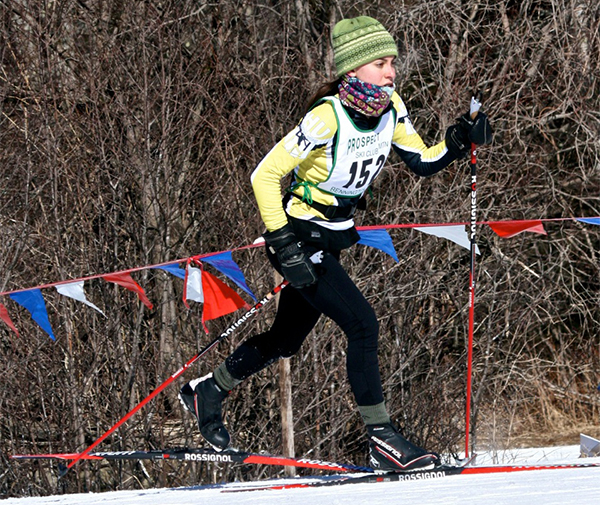 At first glance, Nordic skiing seems like anything but a team sport. But at the state championships at Rikert Nordic Center in Ripton last week, Harwood Union's boys' and girls' teams were exactly that: a team. Although each skier's effort was individual, it was their commitment to their teammates that drove quite a few of them to perform above and beyond even their own expectations.
Coming into the Thursday, March 3, classic discipline finale, the girls' squad sat in third place in the Division 2 standings after Tuesday's skate portion of the championships and the boys in fifth place. By day's end, the girls held firm to their third-place position through some fearless skiing. The boys, meanwhile, mounted an epic effort and clawed their way up a spot in the Division 2 pecking order for a very respectable fourth-place finish overall.
The day began with the girls' individual 5K classic race and as with Tuesday's skate event, Harwood placed five racers in the top 20. Sophomore Jordi Kulis scored an impressive fifth place with junior Madeline Strasser hot on her heels in seventh place and junior Anneka Williams just three spots behind that. Kyle Marie Hekeler (15th), Isabel Jamieson (18th), Erin Magill (29th), Nicole Cutler (51st) and Sophia Libby (53rd) rounded out the team's strong effort. The team spirit could not have been more evident than with Libby's dogged effort to cross the finish line despite suffering a cold-induced asthma attack mid-race.
In the boys' 5K race, junior Noah Eckstein sped to a fifth-place finish in Division 2, with seniors Philip Hekeler (13th) and Kyle Dash (22nd) providing solid support. Tyler Skroski (32nd) nudged himself out in front of the consistently packed cluster of Cam Alberghini (40th), Walker Caffry Randall (41st) and Colin Fennelly (44th) with Seth Davidson (63rd) playing sweep. This strong effort nudged the boys' squad to within one point of fourth-place Woodstock, 193-192, with one event to go, the relay.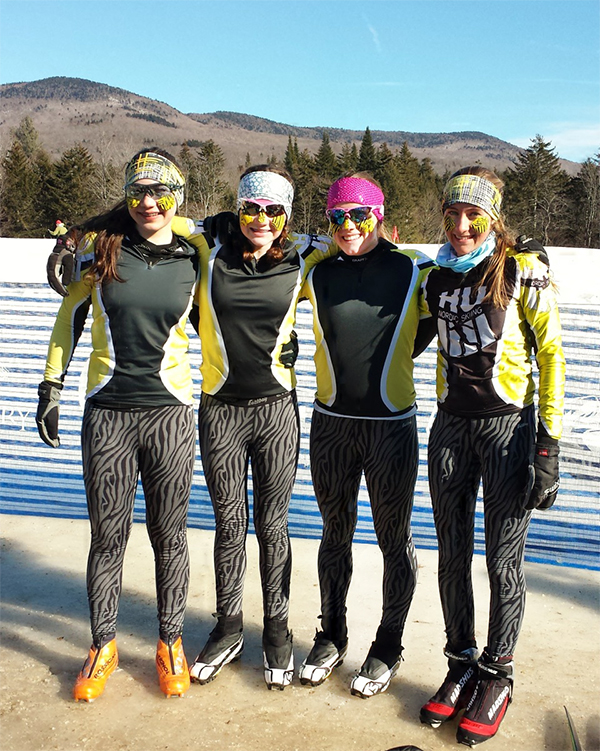 But first the girls needed to fend off parries from Burr & Burton Academy and Middlebury Union. With Jordi Kulis, coming off her outstanding morning race, kicking off the relay, Harwood was bound to be in good position. But after suffering an unfortunate crash mid-course, Kulis scrambled to the end of her leg firmly in the middle of the pack. Undeterred, Kyle Marie Hekeler took the tag and powered through her leg, picking up a couple spots, as did Anneka Williams in leg three. Anchor Madeline Strasser, despite her greater comfort as a skate skier than classic, was not about to let the team down. She put down a blistering leg and pulled across the line in third place for the relay and sealed the girls' third-place Division 2 overall finish.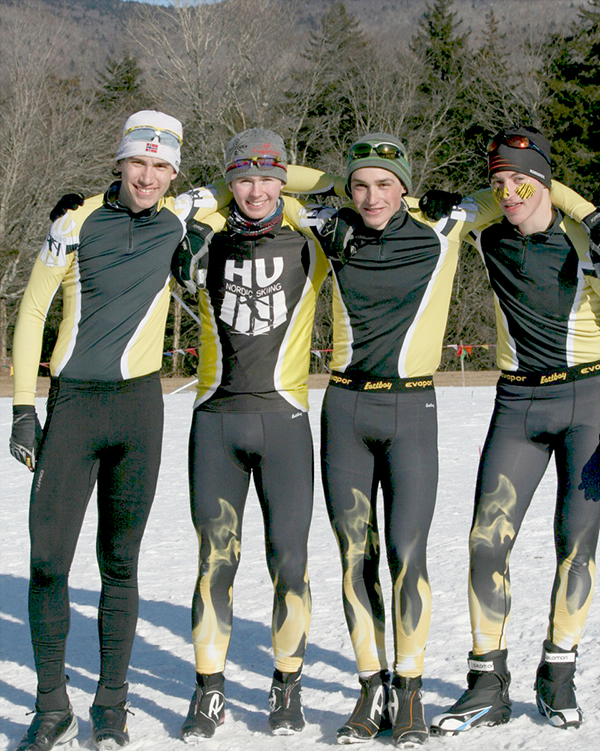 For the boys, Noah Eckstein again was placed by coach Tom Strasser in the lead relay position, as he had been in the skate relay two days earlier. And, as with Tuesday's relay, Eckstein put in an explosive performance, coming into the tag zone in first place ahead of archrivals Scott Mooney of Burr & Burton and Nick Wilkerson of Middlebury. Taking the tag, Tyler Skroski skied the race of his life, fighting to stay near the head of the pack, before giving way to teammate Philip Hekeler, who pounded through the course faster than any other third-leg racer in either division. And then it was up to Kyle Dash, who, true to his name, dashed through the final leg of his high school Nordic career giving it everything he had and propelling the boys to a fourth-place relay finish, which was good enough to lift them in the team standings over Woodstock and into fourth place overall.
As a bonus, the strong performances by Philip Hekeler and Madeline Strasser earned each of them a spot on the Vermont Elite Team, joining Noah Eckstein and Jordi Kulis who had previously qualified. They will team up with the best skiers from Vermont and go head to head against teams from New Hampshire, Maine and Massachusetts at the New England High School Championships on March 18 through 20 on the very same trails at Rikert Nordic Center.