HU lacrosse loses in championship game
Written by

Chris Keating

Published in Sports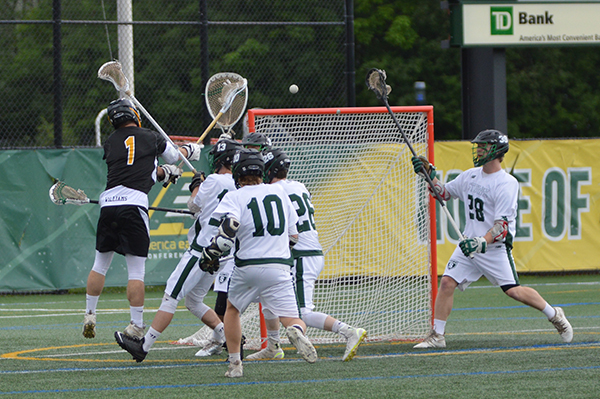 Harwood's boys' lacrosse team was unable to hold off Stowe in the Vermont State Division II finals on Friday, June 6. Stowe defeated the Highlanders 13-10.
The Stowe Raiders closed out the final nine minutes of the championship game with a four-goal run and the Highlanders were unable to get off of their heels.
Harwood led for the majority of the game, but players were never able to distance themselves all that much from the Raiders, who used their speed and took advantage of Harwood's penalties to remain on the hunt.
There is no better example of this than the final two minutes of the first half. Harwood players found themselves up 6-3. Connor Woolley was penalized 30 seconds for a push from behind and just as he was stepping back onto the field, Stowe's Trent Gutstein narrowed the lead to two.
With 1:04 left in the first half, Harwood's Jake Wells took a 1-minute roughing penalty and 29 seconds later Hunter Wimble took an unsportsmanlike penalty, leaving the Highlander's defense thin for a full 30 seconds and that was all Stowe needed.
The Raiders scored twice in 12 seconds to even the game before half time and the two teams had 24 minutes to battle it out.
Harwood came out strong once again, scoring the first two goals, but it was never enough. Down 10-9 in the final 10 minutes the Raiders took control of the game.
Stowe's Jake Boerger scored the go-ahead goal and the team never looked back; and they coasted to the 13-10 victory.
"We didn't lose as Vince Lombardi says, we just ran out of time," Harwood's coach Russell Beilke said after receiving the runner-up plaque, and he conceded that the team may have lost some gas towards the end of the game.
He gave credit to a good opponent as well. "Their transition game was awesome," Beilke said while adding that penalties decimated his team during the first half, "You can only recover or hold on for so long," he said.