Harwood boys' soccer heads to state championship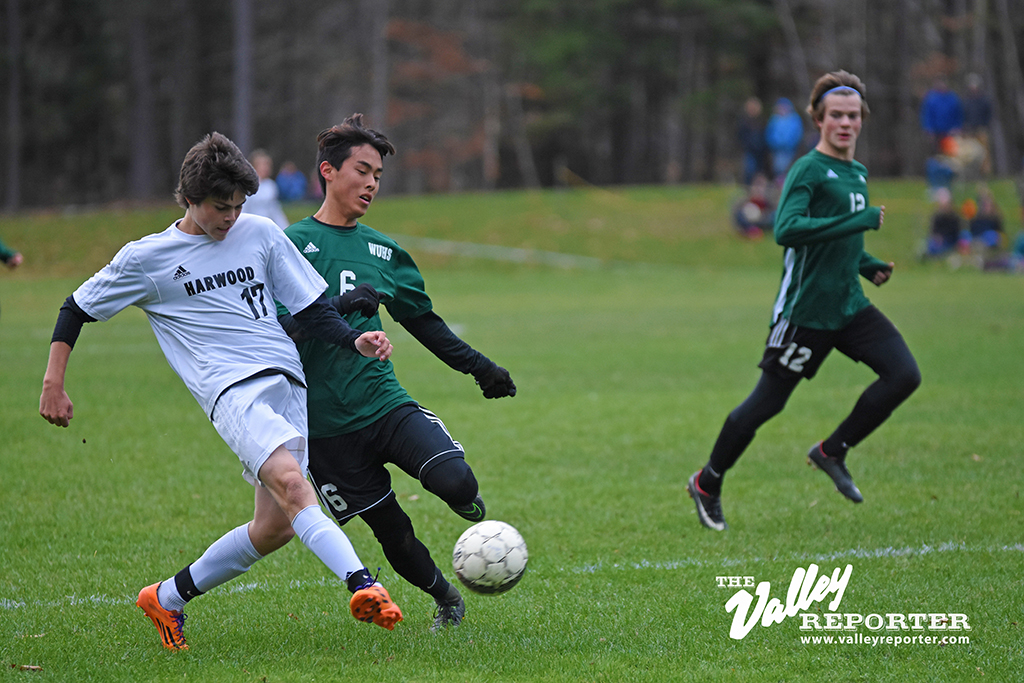 Harwood boys' soccer is gearing up for a rematch against Lake Region as they head to the Vermont Division II state championship this Saturday having defeated Woodstock 7-0 on November 1.
Last season, the Highlanders reached the semifinal and fell to Lake Region, who moved on to be crowned Division II state champions. This season Lake Region played on the other side of the playoff bracket and is again the top seeded team in Division II. They defeated U-32 en route to the finals.
Harwood's Jake O'Brien continued his postseason success this week, scoring four goals for the Highlanders in the 33rd minute of the first half and the first, 27th and 40th minute of the second half.
"I think my spacing across the field is good so far and my teammates are just getting me; I'm just there at the right time," O'Brien said after the game.
Harwood head coach Don Haddox said that the team set the tone early, which paid off when Charlie Zschau knocked in the first goal in the 21st minute. Woodstock's goalie failed to hold onto a shot from Harwood's Duncan Weinman and Zschau was able to capitalize quickly.
click image for slideshow
"We talked a tremendous amount last week about not playing quite as negative and playing forward more often when we get the chance. When we're not under pressure we were often content to keep possession moving backward and if we're not under pressure, I would prefer we try to penetrate, and I think you saw that today," Haddox said.
Haddox said that Harwood boys did not take their foot off of the gas throughout the entire game, even when the Highlanders were in complete control.
Even though goaltender came away from the game with a clean sheet, Haddox said, and the defense struggled at times in the middle of the field.
"We were allowing them to gain possession of the ball unchallenged a lot," Haddox said, but after discussing the issue at halftime, he did not see it in the second half.
It was a different story on offense though.
"[Jake O'Brien's] finishes were clinical today. There was not a lucky finishes there, there was not a right place at the right time finish there, those were clinical, high level goals," Haddox said.
Will Lapointe and Asa Moskowitz rounded out Harwood's scoring with goals in the first and second half, respectively.
Boys' soccer is now the last Highlander team in play.
Harwood's No. 5 seeded girls' soccer team was eliminated in their quarterfinal matchup against No. 4 Mt. Abe, losing 3-2 in double overtime.
The Highlanders ended the season with an 11-3 record. Their only losses went to Thetford Academy, North Country Union and U-32.
Harwood's boys' and girls' cross-country teams placed second and third, respectively, at the Vermont Cross Country State Championships at Thetford Academy on Saturday.
Harwood's field hockey and volleyball teams did not participate in playoff action this year. Although each team in the state qualifies for the playoffs, Harwood has a policy whereas if a team's record falls under 0.500, they can choose to participate or end their season on their own terms.