Magill wins Vermont Division II XC championship
Written by

The Valley Reporter

Published in Sports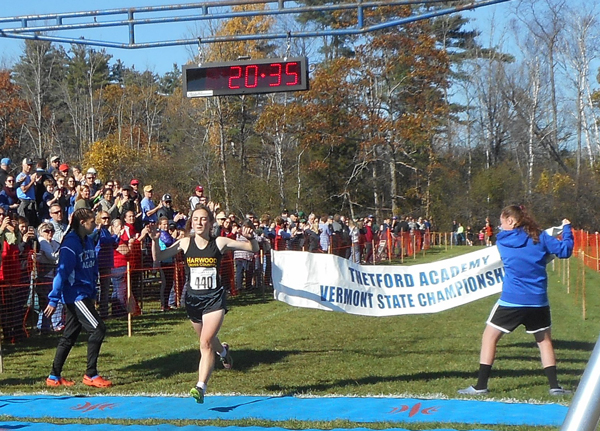 Erin Magill, Moretown, easily outdistanced the field at the Vermont State Division II State Championships held at Thetford Academy on Saturday, October 28. Her 25-second margin of victory also qualified her for the New England Cross-Country Championships to be held November 11 in Belfast, Maine. The Harwood girls fell 8 points shy of winning their ninth consecutive state title. Harwood girls finished in third place behind U-32 and Middlebury.
"All the girls were confident going into the race that they could pull it off; I wasn't so sure," said coach John Kerrigan.
"We had two girls that were injured all season just coming back on to the team and another two girls that were healthy all season that sustained injuries during the last race before states and this kept them out of the championship. The two girls that I brought up from JV, Hadley and Mackenzie, were very nervous but performed extremely well in their first state meet. It took a perfect storm of events to prevent these girls from continuing the legacy of victories. These girls should be proud of their efforts. They all gave the best of themselves and a coach could not ask for more. Sometimes defeats are more triumphant than victories," said the veteran coach.
Stephen Magill, Erin's dad, summed it up perfectly:
"While I'm disappointed, I'm incredibly proud of the teams. The girls went in as underdogs, but they really thought they might do it. I think as a team they ran harder, with more determination, and then they have the last three years when they were favored to win. Watching them come cross the line, collapsing and crying, with snot running across their faces was inspiring. It brings tears to this sentimental dad," he said.
The top seven for Harwood were Erin Magill (1), Julianne Young (8), Jordi Kulis (13), Isabel Jamieson (24), Katie Ferguson (26), Hadley Kielich (31) and Mackenzie Greenberg (36).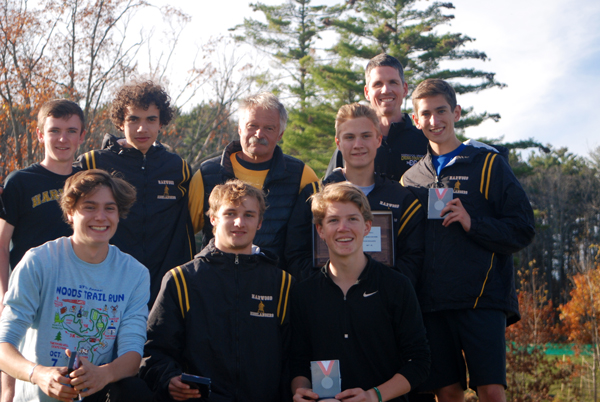 BOYS' RACE
Harwood boys had their best race of the season, finishing second to a strong U-32 squad. Harwood boys outdistanced the third-place team, Lyndon Institute, by a whopping 40 points and did their best against the U-32 Raiders that were running their best team in a decade.
"The trifecta lived up to their name today: Brendan Magill (8), Daniel Bevacui (9) and Anthony Palmerio (10) kept us in the hunt. Jesse Bisbee (16) and Walker Caffrey-Randall had the best races of their careers," said Kerrigan, noting that Harwood boys just missed (by hundredths of a second) qualifying for the New England Championships.
The top seven boys were Brendan Magill (8), Daniel Bevacqui (9), Anthony Palmerio (10), Jesse Bisbee (16), Walker Caffry Randall (30), Seth Beard (35) and Luke Groom (37).
"I am already looking forward to next year. For the boys, Brendan and Luke (who was the seventh best freshman in the state) return, and we also have several other outstanding freshmen. We lose four outstanding senior girls, but Lou Bevacqui, our middle school coach, has created a wonderful feeder program. We may be starting a new streak next year," Kerrigan said.