Highlanders overcome slow start, defeat Williamstown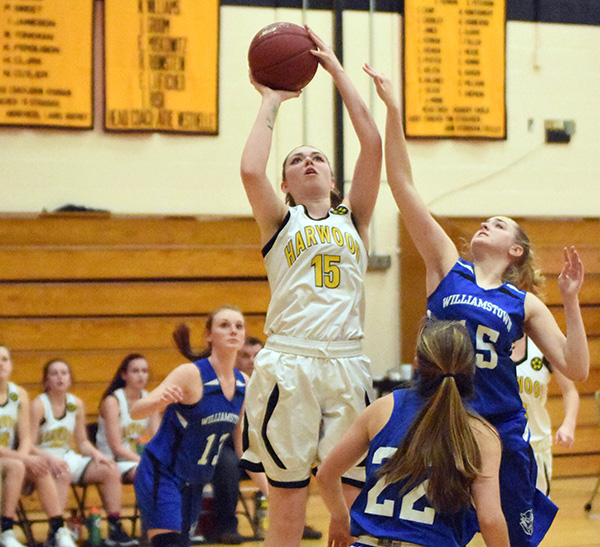 After scoring just one point in the first quarter, Harwood's varsity girls' basketball team took control of their game against Williamstown, going on to win 37-32.
Harwood's Mia Cooper scored 10 points, eight of which came in the second quarter to lead the team to victory on Tuesday, February 20.
Ashley Proteau, who had six points on the night, sealed the Highlanders' victory late in the game by sinking two free throws to bring Harwood's lead to five.
Cam Ravelin and Payton Lanphear both tallied five points, Ellie Rochford added four points and Mayla McIntyre and Reilly Lanphear added two points apiece.
"It was a slow start offensively, but our defense was there and I wasn't concerned. We had one point after the first quarter, we came out flat but also just some shots just weren't falling, but we didn't panic. They showed great composure, they didn't stop playing, they didn't hang their heads," Harwood head coach Tommy Young said.
Toward the end of the game the Highlanders started stalling and the home crowd grew louder as the time ticked off the clock. Young noted that it might be the first time anyone has ever cheered during a delay of play.
The Highlanders have had trouble closing out games throughout the year and Young said that getting a win on Tuesday night was good for the team.
"I think this was big. We were starting to lose a little bit of momentum because we lost some close games, lost some tough games and I think this was huge," Young said.