Seventh annual DisasTOUR coming up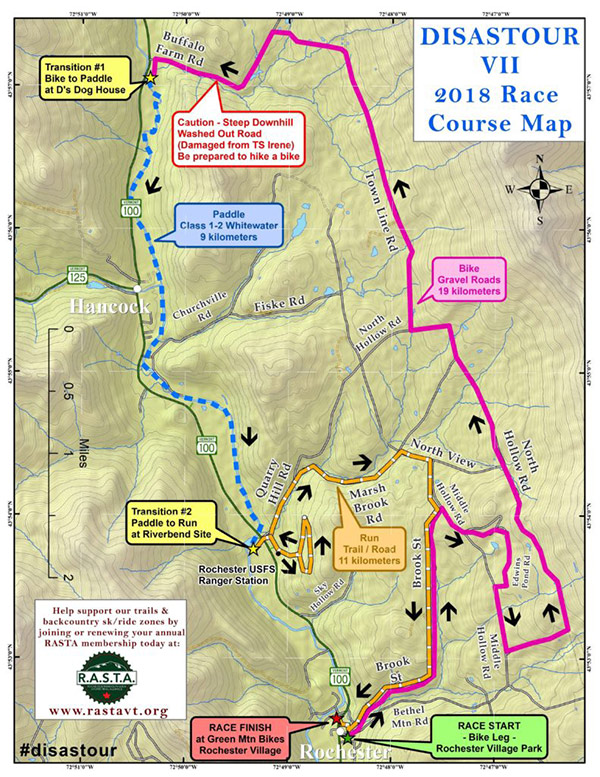 The seventh annual running of DisasTOUR takes place at the end of the month on Saturday, April 28. This multisport event takes place in Rochester, Hancock and Granville. Billed as fun and family-friendly, the event was created to boost community morale, celebrate flood resilience and raise money for flood relief in the aftermath of Tropical Storm Irene in 2011.
Organization of the race was transferred to the Rochester/Randolph Area Sports Trails Alliance (RASTA) four years ago. All proceeds from DisasTour events benefit the White River Valley communities of Granville, Hancock and Rochester. Proceeds from DisasTour VI will benefit the White River Valley communities through the RASTA Valley Trail Project and the local food shelf.
The event begins and ends at the Rochester Town Park. There will be an after party with pizza and beverages from Lawson's Finest Liquids at Green Mountain Bikes. The race starts at 10 a.m. with a 15K bike ride, followed by a 7K paddle on the White River and finally a 9K run.
In addition to the DisasTOUR, there will be a bike race for kids on the Rasta pump track behind Green Mountain Bikes. Kids should bring bikes and helmets. Participants are asked to bring canned food items to donate to the local food shelf.