Harwood in lacrosse finals Friday, June 8, 7:30 p.m. at UVM's Virtue Field
Written by

Katie Martin

Published in Sports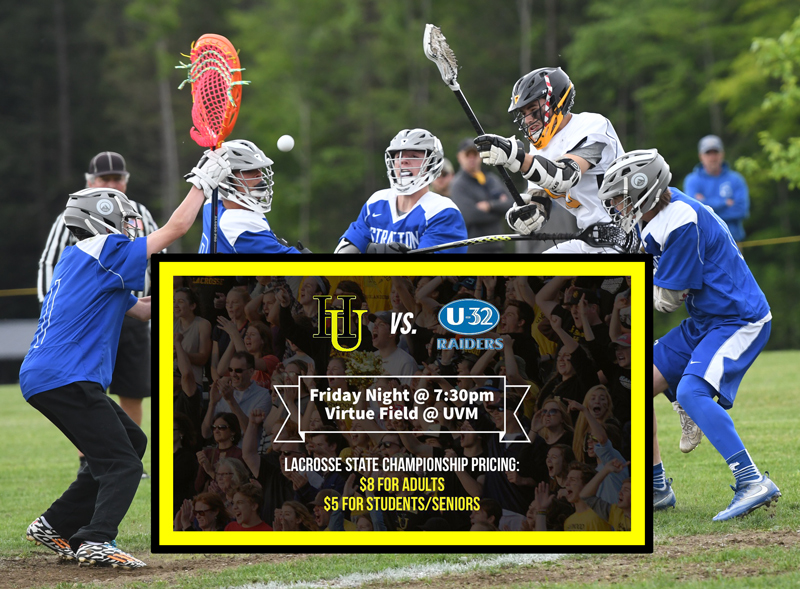 After a runaway game that ended with Harwood boys' lacrosse up over Stratton by 18-3, the Highlanders are headed to the state championships this weekend.
The Harwood Highlanders hosted semifinals at HUHS on June 5 against Stratton Mountain. Stratton Mountain started off the game with a goal within the first few minutes, seconds later Harwood tied the game back and then took the lead with a goal by Hunter Wimble making the score 2-1 on a man-up advantage.
Harwood vs. U-32
Friday, June 8, 7:30 p.m.
UVM's Virtue Field
Connor Woolley scored minutes later which had Stratton call their first time out. With the last few minutes in the first quarter, Woolley was able to get a hat trick to start the game. At the end of the first quarter the score was 6-2 in Harwood's favor.
In the second, the score was 7-3, the defense would hold Stratton Mountain to the low score all game as Harwood offense kept the powerhouse fueled. Connor Woolley had seven goals and two assists, Connor Cameron had three goals and one assist, Ely Kalkstein had two goals and one assist, Jacob Wells had one goal and two assists and Tyler Skroski had one goal.
During the later quarters of the game there was a skirmish on the field that dissolved shortly after, with tensions running high and the determination from both teams to make it to the championship on full display.
Head coach Russell Beilke said the game was all about the defense unit which was what held the team together.
"The defense played unbelievable today; Sully O' Hara stood out," said Beilke. He could not say enough about the defense holding Stratton Mountain at the three-goal limit throughout the entirety of the game, after they came out in the first quarter scoring and getting on the board first.
Their communication and ability to break the ball out to the midfield and forwards is what made the team's play so successful. Beilke was all smiles as he concluded his thoughts by commenting, "This is a once-in-a-lifetime team." No. 1 seed Harwood will play against No. 7 seed U-32 on Friday, June 8, 2018, for the Division II title under the lights at Virtue Field at UVM at 7:30 p.m.