This week in Harwood Union sports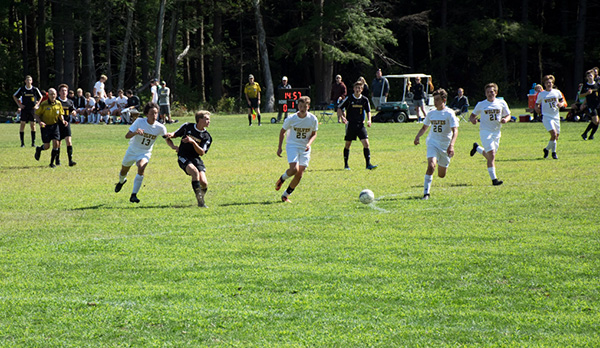 Boys' golf
The Harwood boy's golf team played at the Country Club of Vermont on Thursday, September 6, teeing off against six other teams.
Harwood, along with Rice Memorial High School, South Burlington, Northfield/Williamstown, Lyndon and Lamoille all competed against each other.
All teams brought along four players, Harwood athletes consisted of: Aidan Melville, who shot 33 on the day, Nate Honeywell 38, Jacob Green and Jon Honeywell both shot 44.
Harwood shot 159, Rice Memorial shot 164, followed by South Burlington 190, Northfield/Williamstown 210, Lyndon Institute 218 and Lamoille with 261.
The Harwood golf team will hit the green again on Wednesday September 12, at Stowe Country Club with a tee time of 3:30.
Girls' field hockey
After coming off a loss against Mt. Abe, the Harwood varsity field hockey team held their own in their next match up against Missisquoi Valley on Friday, September 7, away.
Harwood, who traveled on the road, was able to hold off their opponent to a zero, zero game that went into overtime. The team had previously worked on communicating on the field with teammates, as well as being aware of their positioning on the field. The Harwood team also tried to discipline themselves with ball transitioning from defense to offense up the field.
Boys' varsity soccer:
The boys' varsity soccer team hosted a match-up against Peoples Academy on Saturday, September 8, in what would be a show stopping 1-0 win at the cleats of a sophomore rookie, Jasper Koliba, in a double overtime victory.
After a back and forth battle for the first ball to cross the line, both varsity teams played with intensity and vigor to gain and maintain possession of the ball.
Goaltender Dylan Haskins for PA recorded five saves that kept his team alive for 95 minutes, before Koliba debuted his first goal on the varsity team for a double overtime victory. His shot a hard and fast kick which ricocheted off a PA player in front of the net scramble with just enough power behind it to seal the deal.
Koliba, a freshman, played one year of junior varsity before being pulled up this year under head coach Joe Yalicki.
Max Hill, veteran goalkeeper for Harwood, tallied two saves on the day, with one lunge coming late into the game that saved his team from upset.
Harwood traveled to play in their next match against the joined team of Northfield-Williamstown at 4:30 p.m. on Wednesday, September 12, at the Northfield High School. Results were not available at press time.
Girls' varsity soccer:
The girls' varsity soccer team played on Friday, September 7, in what would be a run-away game against Hartford High School.
In the first half of the game, Harwood was able to find three balls in the back of the net past Hartford goalkeeper. Freshman Tanum Nelson scored along with sophomore Zoe Buffum and senior Ashley Proteu. Tanum and Proteu would score again in the second half.
Head coach Mike Vasseur commented that the team played well in their positioning and were able to move the ball well around the field for most of the game. Vasseur mentioned that the team was a little slow in some parts of the game and as individuals before playing as a team.
The game was an offensively strong one, as Vasseur commented the team can take away from the game that they needed to play a "complete effort game" while keeping the girls' style of play maintained.
The girls' varsity team will play Thetford next on Saturday, September 15, at Harwood for a 11 a.m. start. Vasseur commented that Thetford has beaten Harwood in the past 3-1 and 4-1, "We will need to show up and play our game because we just have not had good games against them for a couple of years."
Girls' volleyball
On Saturday, September 8, the girls' varsity volleyball team played Mt. Mansfield away and lost, 3 games to 0.
"After a slow start in the first game, we came back to make the last two competitive, but their exceptionally strong servers won the match," said head coach David Stapleton.
On September 11, the team played Rice at home. The game was held at Crossett Brook MS due to an equipment issue at Harwood. Harwood was victorious, winning the match 3-1.
"We split the first two games, 25-17 for HU and then 19-25 for Rice. HU eked out the third game, 25-23, but then fell behind by eight points in the fourth, 20 to 12. After assistant coach Ali Lake insisted that they not give up, they came back to tie at 24 and then went on to win a thriller, 27-25," said Stapleton.
"This is Harwood's first win against one of the schools with a well-established program. The players now know what they are capable of. Watch out," commented Stapleton.
"Every player stepped up their game. The serving, passing, setting, hitting and blocking of the entire team won the match, After lackluster serving against Mt Mansfield, Captain Kate McCracken served nine outright winners, many at critical points in the match."
We also had stellar serving from Morgan Sheltra, Mia Cooper and Cassie James. Lynn "ice in her veins." Russell nailed the winning serve in game three and Ashlynn Karst serving led our come-from-behind effort in game four. The middle hitting and blocking of both Mia and Ashlyn won many other points. And the results would likely have been different if Morgan's setting was not becoming more consistent in every game," said Stapleton.