Harwood girls' cross-country wins state meet
Written by

The Valley Reporter

Published in Sports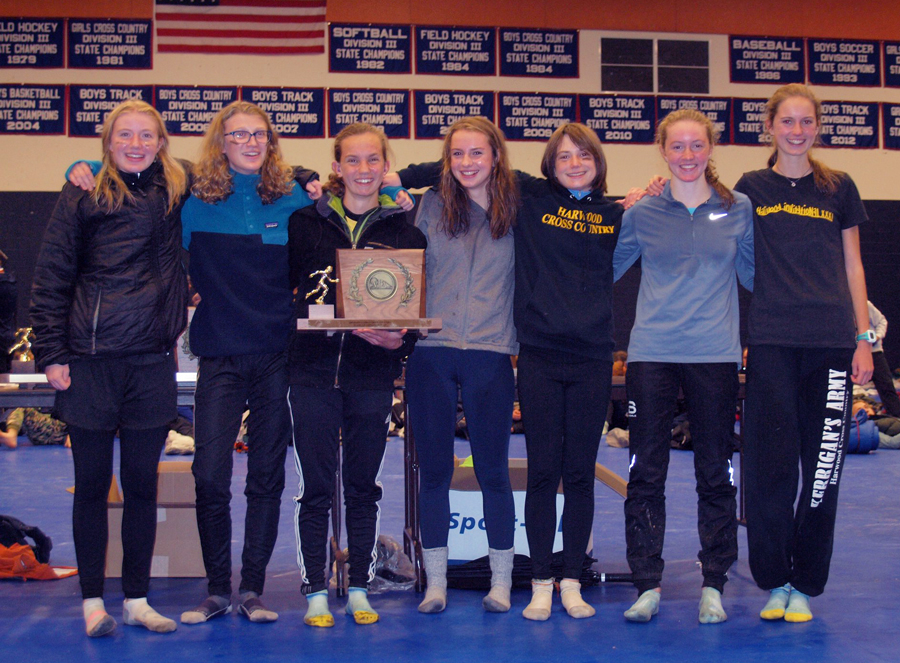 Harwood girls entered the 2018 season as underdogs to strong U-32 and Middlebury teams. U-32 squeaked out a 1- point victory over Middlebury and stopped the Harwood girls' streak of state titles at eight last year.
With almost all of the runners from both U-32 and Middlebury returning and a group of green freshmen making up the Harwood squad, coach John Kerrigan was not optimistic about regaining the title.
"We were beaten by U-32 very soundly at the Essex Invitational (first meet of the year). Our focus since then was personal improvement. Let's be the best that we can be. For the first time in nine years we were not defending a state title so the pressure was off," said Kerrigan.
"We steadily improved all season and I knew we had a shot at the title. But five of our top seven runners had never run in a state championship and had never run the technical course at Thetford. We were definitely at a disadvantage over the seasoned teams from U-32 and Middlebury," he added.
Harwood girls placed four runners in the top 11 – Ava Thurston (1), Julianne Young (3), Britta Zetterstrom (6) and Caelyn McDonough (11) – but was it going to be enough? A fifth girl, Laura Martinez, has been improving all season, but she was under a lot of pressure.
"The fifth runner is the measuring stick for the team. Their finish determines the team finish. I was the fifth runner on my college team so I empathized with Laura. I did not want to put great pressure on a freshman girl running in her first state meet, but I also did not want to de-emphasize the importance of the fifth, sixth and seventh runners: Laura, Hadley (Kielich) and Sarah Kate (Smith)," Kerrigan said.
Ava Thurston won the individual title. She becomes the sixth girl to win a cross-country title for Harwood, after Kim Blodgett (1987 and 1988), Lori Blodgett (1990), Annie Mendes (2006), Jaime Thomas (2010 and 2011), Erin Magill (2016 and 2017).
"We really wanted the state championship, but we knew it wouldn't be easy," Thurston said. "It was going to hurt a lot. But we all ran really hard and it worked out. Caelyn and Britta have both gotten so much stronger and I think the 5K distance is suiting them well. Laura was the fifth girl today and it's hard to be the fifth runner. But our fifth, sixth and seventh runners all have been running close to each other. Laura has really picked it up and gotten a lot stronger over the season. And Julianne is such a great team leader. She's so positive, she's a great training partner and she's pushed our whole team," Thurston continued.
This was the 25th Vermont state title (12th for girls) for Harwood. This title gives Kerrigan 43 Vermont state titles his teams have earned for Harwood.
With their effort at states, the Harwood girls earned a trip to the New England Cross-Country Championships to be held in Manchester, NH, on November 1