Harwood girls' XC 21st at New England Championships
Written by

The Valley Reporter

Published in Sports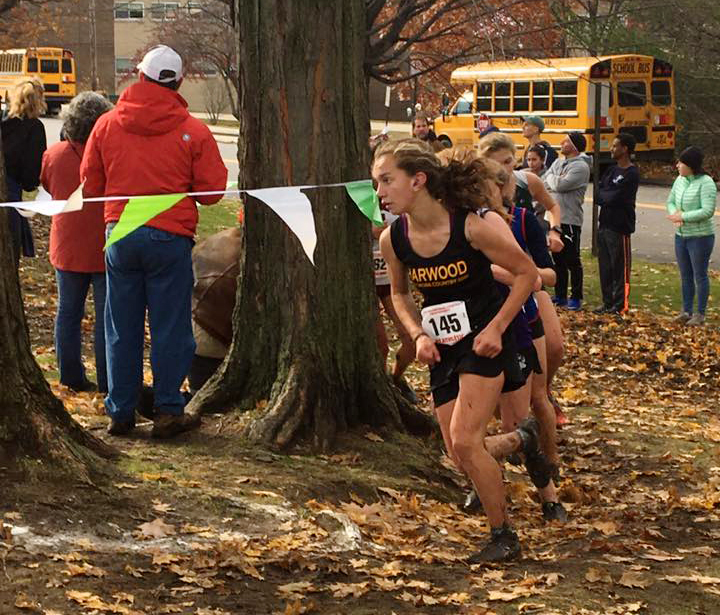 Harwood girls finished the season under tough conditions in Manchester, New Hampshire, on Saturday, November 10. Derry Field Park, the site of the championships, received 2 inches of rain the night before the race. A normally tough course was made even tougher by the soggy, soft and muddy conditions.
"Normally there are always places during a cross-country race where you get to ease off the pedal for a bit. But the flats and downhills were just as tiring as the uphills!" said coach John Kerrigan.
Despite the tough conditions the HU girls (the Division II Vermont state champions) had their best team result of the season. Harwood girls finished as the third Vermont team and 21st overall in the elite field of runners.
"I was hoping to finish as the fourth Vermont team; we were sixth going into this meet. I was also hoping for a top 25 finish. These girls exceeded my expectations. I think the terrible conditions brought out their best efforts. Only two teams from Maine (Falmouth and Bonny Eagle) and two from Vermont (CVU No. 1 and Essex No. 20) beat us! Not bad for a small, rural high school nestled along the spine of the Green Mountains," said Kerrigan.
Running for the Harwood girls were Julianne Young (104), Britta Zetterstrom (122), Ava Thurston (144), Caelyn McDonough (186), Laura Martinez (235), Hadley Kielich (243) and Sarah Kate Smith (259).
Brendan Magill spectacular in last XC race as a Highlander
Brendan Magill was running in his last cross-country race as a Highlander. The slightly built senior who qualified as the 22nd runner from Vermont found himself in a very physical race with over 250 boys packed together during the bulk of the muddy race. He fought his way up through the pack to his best race of the season, fnishing 139th in the elite field of runners and the 16th Vermonter to finish. Magill is hoping to run cross-country at Hamilton College next year.
"I applied, early admission, and I am hoping to hear soon," said the Moretown Elementary School alumnus.
"If the school administration does not accept him they will all need their heads examined. He is a wonderful student, talented musician and great team leader," said Kerrigan.
"This season was particularly rewarding to me as a coach. We started the year with many freshmen and inexperienced racers. They listened, they learned and they gave it their all. I am so proud of them. I am already looking forward to next year," said the veteran coach.