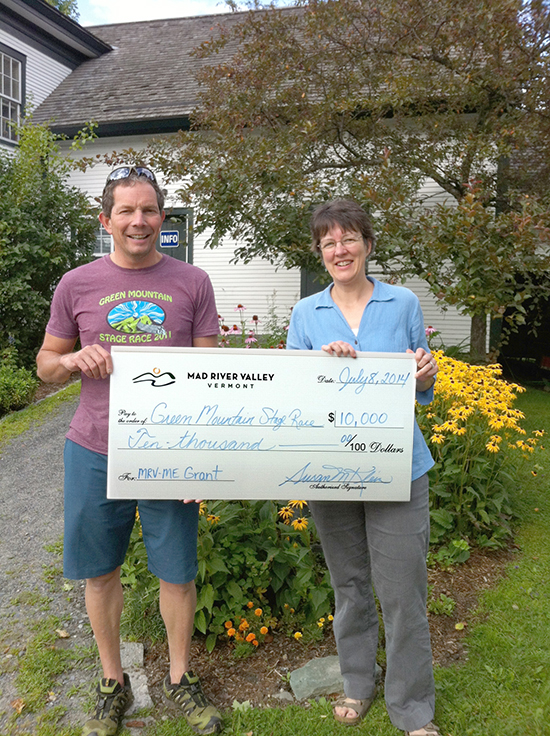 The GMSR has become the largest non-winter/non-holiday event in the Mad River Valley. The GMSR attracts 700 to 900 racers annually for four days of racing. Most of these racers come from outside Vermont and when they come for the race they need lodging as well as food and fuel. In addition, based on surveys of racers done over the years, it has been determined that they bring on average .70 additional people with them for the long weekend. This translates into 1,190 to 1,530 visitors in the area for the stage race.
Race director Gary Kessler said he changed the format of the race four years ago in such a way as to require most participants to spend Thursday night in The Valley as well as Friday, Saturday and Sunday. Previously racers could arrive in the afternoon on Friday for the first stage. Kessler said the goal of the change to Friday's race was to improve and diversify the racing, but it had the added benefit to the local economy of requiring an extra night's lodging.
Kessler said that in promoting the event to participants he highlights what The Valley has to offer in addition to the racing. This includes all the community activities that take place over Labor Day weekend such as Waitsfield Farmers' Market, Festival of the Arts, swimming, hiking and just relaxing. Kessler added, "It used to be that Labor Day weekend marked the end of summer and the start of school. Now that all happens prior to Labor Day which used to make for a quieter long weekend." Kessler said he encourages participants to bring up their families to enjoy The Valley as only a portion of each day is spent actually racing.
So if the GMSR brings a large group of people to The Valley for four days, how does that translate into dollars for the local economy? In 2011, the state commissioned a study on visitor spending in Vermont. The study found that visitors spent on average $123.20 per person per day. This was up 20 percent from a similar 2009 study. Just using the 2011 figure of $123.20 per day the GMSR brings $586,432 to $753,984 into the local economy. This is very likely higher in 2014 dollars.
In addition to the direct economic impact many participants who were surveyed said they visited the area prior to the race to pre-ride the racecourses. Many others said they planned to return at other times of the year to recreate including skiing and boarding during the winter. A number of racers have enjoyed the area so much that they have had their weddings here in The Valley.
This year's stage race takes place next weekend with racing on Friday, Saturday and Sunday, August 30, 31 and September 1.
{loadnavigation}