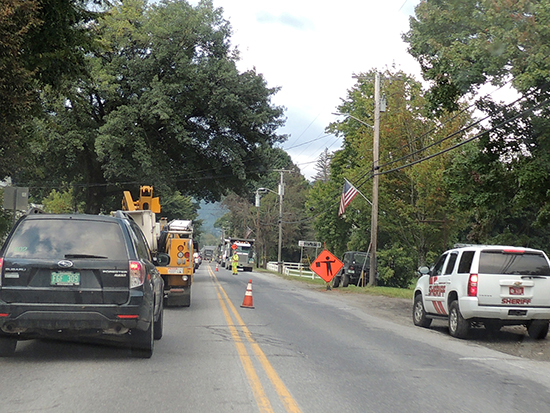 Valley residents and road travelers are not alone in noticing that travel through town is seriously slowed by construction right now. Vermont Travel Recreation Council (TRC) recently heard from Teresa Wood, community liaison for the major construction projects under way in The Valley, Waterbury and Stowe.
Wood provides community outreach with resources for a better travel experience for individuals and business stakeholders.
Wood spoke specifically of the construction and infrastructure projects planned for the next several years. All projects are listed online on the Waterbury Works" site that VTrans created to facilitate communication, integrate all the projects and provide frequent construction updates: http://watp.vtransprojects.vermont.gov/.
There are 14 transportation projects slated for the Mad River Valley and Stowe region, with Waterbury as their hub; some are currently under way. Activity in selected areas of the region impacts Routes 2 and 100 and Interstate 89 as well as local roads. It comprises traffic signals, roundabouts, sidewalks, repaving, road reconstruction, ledge blasting and removal, highway bridge reconstruction and ramp work and possibly shoulders to provide wider space for cycling. The State Office Complex will reopen in 2015-2016 and create additional traffic by state employees returning to work in Waterbury.
TRC members discussed traffic backup during busy travel times, from commuter drive time to foliage season. Wood updated the group on new VTrans communications efforts through Waterbury Works and offered resources that businesses may share with their visitors. Tactics include digital roadside message boards, signs recommending alternate routes, updates via local broadcast and print media, eNews, Front Porch Forum and real-time social media updates from Waterbury Works on Facebook and Twitter.
A number of other partners that interact broadly with the traveling public, such as Ski Vermont and the Vermont Department of Tourism and Marketing, will help disseminate Waterbury Works' and other statewide construction information to travelers. TRC member Paula Maynard from Hildene, The Lincoln Family Home in Manchester, noted that during their town's major reconstruction project they learned that communication and current information is key.
TRC Trending Topics is a monthly forum that stimulates conversation, creates educational networking opportunities and delivers industry best practices to a statewide audience. TRC members devote 30 minutes to brainstorm with stakeholders and industry leaders to develop a synopsis on trending topics in the industry. TRC Trending Topics is open to professionals in the tourism industry and suggestions for future topics and speakers are encouraged. The next TRC meeting is Thursday, September 18, at 9 a.m. at the Vermont Department of Tourism and Marketing office in Montpelier. Learn more at www.vermontpartners.com.
{loadnavigation}