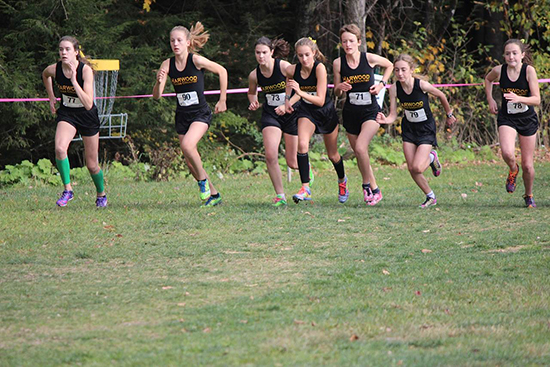 The geese could be heard honking overhead on their migrating flights. Directly below on the Harwood cross-country trails, runners were on their own mission trying to defend the HU Co-Ed Cross-Country Invitational title.
Seventeen teams and over 400 runners from north central Vermont converged on the beautiful wooded trails at Harwood for the 27th annual Co-Ed Cross-Country Invitational.
In the boy's Division 1-2 race the spectators had their chance to view Gatorade Runner of the Year Sam Nishi racing for the first time this year on his home 5k course. Harwood's first All-American in cross-country did not disappoint them. Nishi raced to a new course record of 16:51, outdistancing the second-place finisher, Nathanael Kuzio, a former teammate who currently runs for GMVS, by over 40 seconds. Nathanael was followed by a pack of Harwood runners. Jacob Palmerio (fourth), Morgan Baughman (fifth) Anthony Palmerio (seventh), Kyle Dash (eighth), Colin Fennelly (ninth) all helped Harwood to a strong team finish over second-place Milton.
Where the Harwood boys showed depth, the Harwood varsity girls showed complete domination while running in the Division 1-2 race. Harwood's Anneka Williams set a blazing pace for all of the girls in the race. Williams ran the first hilly mile in a very fast 6:08. The blazing first mile was a little too much for the gutsy sophomore. She was forced to back off but pushed her teammates to some of the fastest times of the year. Freshman Erin Magill took the lead from Williams halfway through the race and sped down Kerrigan's Killer Hill and into the finish with a time of 20:34, one of the top five times ever on the challenging course. Another Harwood freshman, Phoebe Sweet, nipped pacesetter Williams for her best team finish of the year. Harwood girls continued to pour across the finish line in rapid succession. After the one, two, three of Magill, Sweet and Williams, Charlotte Boyden placed fourth; freshmen Jordy Kulis and Isabella Jamieson went fifth and sixth. Harwood's seventh runner, Lily Clark, in ninth place, followed them, only 14 seconds off of a complete perfect score.
"To have all seven girls in the top nine was very impressive. Phoebe and the other freshmen are not even close to peak yet. They are going to be fun to watch at States," said coach John Kerrigan.
Harwood's JV girl runners raced against varsity runners from Division 3 in the Division 3 varsity races. Aenea Meade and Nicole Cutler, Harwood's top two JV runners running in the varsity race, finished an impressive 10th and 11th among some of the best Division 3 runners in the state. They were followed by a pack of Harwood runners: Madeline Strasser, 13th; Zoey Pierson, 14th; and Carly Wilcox, 15th.
In the boys' Division 3 race, Harwood's Nathan Palmerio fought hard to a fifth-place finish. "Nathan earned his way back on to varsity with a great effort today," said Kerrigan. Nathan was followed by Tristan Touchette (19), Cam Alberghini (21), Lucas Boyden (22) and Bergen Allison (23).
After the scores of the boys' and girls' races were combined, Harwood placed first, keeping the Hannah the Bear Trophy in their possession. "Hannah," the wood-carved trophy, symbolizes the life of a mother bear that was shot and killed during bow season by a Harwood student hunter. She was sharing apples with her two cubs when a hunter killed her. Hannah's two young cubs that witnessed the kill were orphaned.
"The runners at the time, wanted to keep their memory alive." said Kerrigan.
Harwood XC will host the Northern Vermont Mountain Division Championship on Saturday, October 18. High School races begin at 2 p.m.
{loadnavigation}