Two Washington West Supervisory Union (WWSU) teachers have received this year's UVM Teacher of the Year award. Amy Jamieson is a speech language pathologist at Fayston Elementary School and Nan Hathaway is the art teacher at Crossett Brook Middle School.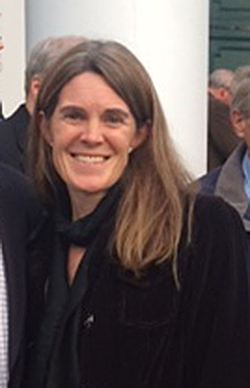 "Amy is a well respected and admired educator here at Fayston School. She demonstrates a high level of professional knowledge every day in her practice as our speech and language pathologist. Her application of professional knowledge has allowed her to make a real and measurable difference in the lives of her students. As a valued member of our educational team she offers meaningful insight into student learning. She strives for excellence in all that she does and is highly respected by her students, colleagues and families. In the years that we have known Amy, she has always advocated for her students and their needs in and out of the classroom," said Jean Berthiume, principal of Fayston Elementary School. Jamieson is in her 13th year of teaching. She worked at Central Vermont Medical Center as a language and speech pathologist before coming to WWSU. She lives in Waitsfield with her husband, Jon Jamieson.
"Given the choice, Nan's classroom is the one where most Crossett Brook Middle School students would choose to spend more of their time, as the 'Teaching Artistic Behavior' approach to learning that Nan embraces really works! In addition to her excellent work at the school, Nan frequently speaks at state and national education conferences on the topics of creativity, giftedness and learner-directed art education. She is a gifted education specialist and is on the board of directors for Teaching for Artistic Behavior, Inc. Nan is the author of several articles and of studio-learning.blogspot.com, and is the co-editor of The Learner-Directed Classroom: Developing Creative Thinking Skills Through Art," said Tom Drake, principal of Crossett Brook Middle School. She is in her sixth year at CBMS and resides in Middlesex. She started her teaching career in 1994. She originally hails from Oneonta, NY.
"WWSU congratulates and thanks these two outstanding educators on their successes, significant contributions to our students and for being so highly celebrated and acknowledged by our profession," added WWSU superintendent Brigid Scheffert.
{loadnavigation}