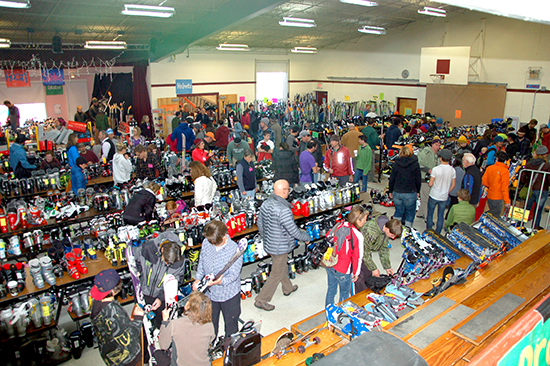 To celebrate 35 years of offering winter enthusiasts killer deals and an opportunity to sell their used gear, Waitsfield Ski & Skate Sale is doing absolutely nothing! No changes, no big surprises, just the same well-oiled machine to kick off the stick season gear frenzy.
Waitsfield Elementary School opens its doors to gear shoppers at 9 a.m. on Saturday, November 15, for the 35th annual Waitsfield Ski & Skate Sale. Sponsored by Sugarbush and Mad River Glen, this important Waitsfield Elementary School fundraiser is a great way to get everyone ready for the winter season with apparel, accessories, boards, boots, skis, poles, skates, snowshoes, Nordic, tele, backcountry and AT gear and much more for all ages and abilities.
Outdoor retailers such as Nordic Barn, Alpine Ski Shop, Plymouth Ski and Sport and others will be selling their wares at some of the most competitive prices of the season. New and used equipment options abound with expert staff on hand to assist the young and old, the beginner or the expert, with all their winter needs.
Waitsfield Ski and Skate Sale is the primary fundraiser for the Waitsfield PTA. Second only to the Warren Fourth of July, Waitsfield Ski & Skate Sale is the largest and longest running community event in the Mad River Valley, drawing thousands of shoppers annually over a two-day period. The event not only benefits Waitsfield School (20 percent of sale proceeds goes to the PTA), but consignees also have the opportunity to make some money on their used gear. In addition, The Valley benefits from the increased visitor traffic during what is typically a quiet time of year.
Looking to sell old equipment? The sale welcomes consigned new and used gear in good condition. Consignment drop-off is Friday, November 14, from 4 to 7 p.m. Speed up the consignment drop-off process by pre-registering. Stop by Waitsfield School, Monday through Friday, November 3 to 14, from 7:45 a.m. to 3 p.m. to get a vendor number and tags. Bring the tags home to be labeled and priced before dropping off the equipment on November 14 between 4 and 7 p.m. Unsold consignments should be picked up on Sunday at 3 p.m.
Looking to volunteer? And shop early? Volunteer to work a shift and shop from 7:30 to 8:30 a.m. on Saturday, before the doors open to the public. Savvy shoppers know this is the way to go. No gear knowledge is necessary. Stop at Waitsfield School and put your name on the volunteer board or visit Waitsfieldschool.org to sign up online.
For additional information and updates visit the blog page at Waitsfieldschool.org, find the sale on Facebook, email This email address is being protected from spambots. You need JavaScript enabled to view it., or call (802) 496-3643.
{loadnavigation}